Heating Repair Services in Greenville and Upstate South Carolina
When the temperature starts to drop outside, you rely on your furnace to keep the inside of your home warm and comfortable. It is not uncommon in Upstate South Carolina for the low temperatures to reach below freezing. If your heating system breaks during that time, you'll want to get it fixed quickly.
At Corley, we offer fast, reliable heating repair services in Greenville and the surrounding area. Whether you use a furnace or a heat pump, our team is made up of expert technicians ready to assess the problem and provide a professional, cost-effective solution.
Signs Your Heater Needs Repaired
Our Greenville heater repair team has seen it all, and they recommend calling an HVAC professional if you're experiencing one or more of the following:
Odd Smells: When you are first powering on your system after not using it for a while, there might be a slightly noticeable odor as accumulated dirt and dust burn off. But if the smell persists or intensifies, it could be a sign of a serious problem, such as a gas leak or something burning in your unit.
Blowing Lukewarm or Cold Air: A professionally installed system should not take time to "warm up." If you feel cool air blowing from vents when you turn on your heater, it's time to call in an expert.
Strange Noises: While it isn't uncommon to hear noises coming from your unit when it runs, pay attention to any persistent whistling, grinding, banging, or clicking. Instead of trying to diagnose the problem yourself, give the pros at Corley a call.
Frequent Need for Thermostat Adjustments: If parts of your house are too cold or too hot and you find yourself constantly changing the thermostat, that is a clear sign that your system is not efficiently working for your home.
Poor Indoor Air Quality: When your system isn't working properly, it could be releasing contaminants such as allergens and dust into the air. If you notice an increase in allergy symptoms, it might be helpful to have an HVAC professional inspect your heater to help improve your home's overall indoor air quality.
If any of these symptoms sound like something happening in your furnace, Corley can help with our fast and reliable Greenville heating repair services.
Emergency Heating Repair
No matter what time or day it is, you should never be without heat any longer than necessary. That's why Corley offers 24/7 emergency heater repair services in Greenville and Upstate South Carolina.
Our team of expert technicians is ready to answer your call day or night.
Prevent Repairs with Proactive Maintenance
One of the best ways to avoid the stress and high cost of furnace repairs is by conducting routine heater maintenance.
Not only does this help you get the most life out of your unit, it also cuts down on the chances you'll have to call our Greenville emergency furnace repair team.
Some proactive maintenance steps to take include:
Install window covers
Fix any window gaps
Regularly change your furnace filter (at least once every three months during winter)
Seal and insulate ducts in any unused parts of your house
Beyond these actions, you'll want to call an expert. At Corley, we offer professional heater maintenance. We inspect, clean, or repair your furnace to optimize its efficiency and keep you comfortable all winter long.
For fast, friendly, and reliable heater repair services in Greenville and the surrounding area, give Corley Pros a call at (864) 659-2996 or schedule an appointment online today.
*Exclusions may apply. Cannot be combined with other offers. Call for details.

Founded in 1986, Corley has been proven reliable, efficient, and skilled when it comes to solving all your plumbing, HVAC and electrical needs.

Corley helps you solve your problems today by providing friendly, knowledgeable technicians, state-of-the-art equipment, and old-fashioned, honest service.

We provide up-front pricing, so you'll never have to guess how much your repair is going to cost. We will go over your options so you can make the best choice for your home.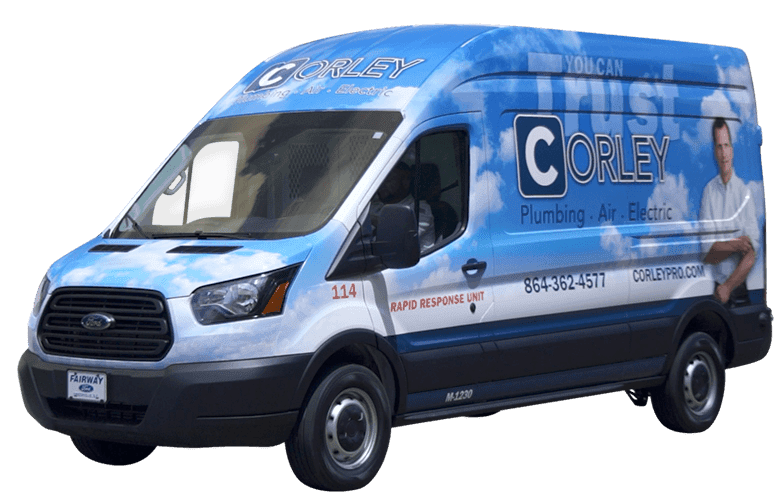 Financing Options Available
At Corley, we understand how important a functioning HVAC system is for your home. This is why we offer flexible
financing options
to help you take care of your new HVAC purchase, so you can get back to taking care of what matters most to you.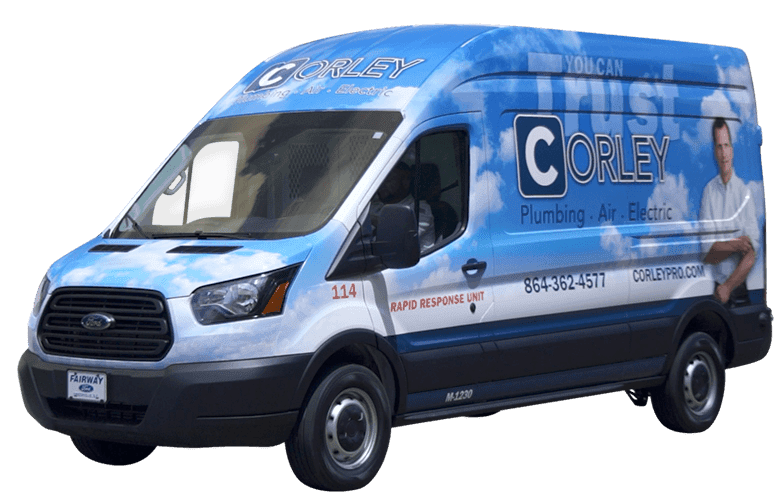 A well-maintained HVAC system can save you from having to invest in costly repairs down the road. Learn more about the
priority maintenance services
offered by Corley Plumbing Air Electric.