Trusted Plumbing, HVAC & Electrical in
Here at Corley, we have been providing quality service in Greenville and the surrounding areas in upstate South Carolina since 1986. In our 30+ years in business, our staff has been proven to be the reliable, efficient, and skilled choice for home services. We have plumbers and HVAC and electrical technicians who can assist you with all your needs regarding repairs, maintenance, and installation. Get in touch with us today to have our team take care of you with our signature Corley service.

Whether you need repair, maintenance or installation we will take care of you with our signature Corley service!
At Corley Plumbing Air Electric, we promise that all of our staff will work hard to get your home back to where it needs to be, so you can enjoy your life again!
A Comfortable Home is a Happy Home
As a "BBB Accredited Business", we are committed to providing you an incredible service experience that keeps you informed from the moment you make the first call.
When you call us for a dependable plumber, electrician or HVAC technician in , we'll find a convenient time for one of our professional and dependable technicians to come to you. They will always arrive on time, be polite, and treat your home just like they'd treat their own.
4.8 Stars
Over 2,700 Google Reviews!
We believe you should know the exact cost before we begin the work. After your technician identifies the problem, we'll discuss the options that you have for the repairs and give you a flat rate price for each option.
The bottom line is that you'll always know what to expect before the repair is done and you never pay for unexpected labor hours. No surprises!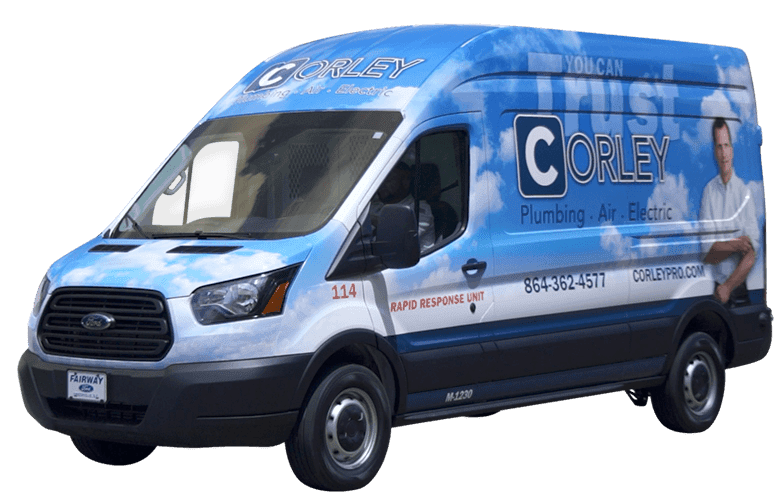 We have a staff of professional plumbers who can come to your aid and perform all kinds of services. If you need repairs for a broken toilet, sink, water heater, or shower/tub, we can quickly get it done so you are not inconvenienced. Our team can also do installations and replacements of plumbing fixtures when you are looking to upgrade or renovate, and we can handle all the maintenance efforts for your sewer system and keep it operating well. No matter what you hire us for, our plumbers will be prompt, respectful, and courteous while working at your Greenville property. We offer up-front pricing on all of our services, so you'll never have to guess how much the job is going to cost.
Learn More About Our Plumbing services

Founded in 1986, Corley has been proven reliable, efficient, and skilled when it comes to solving all your plumbing, HVAC and electrical needs.

Corley helps you solve your problems today by providing friendly, knowledgeable technicians, state-of-the-art equipment, and old-fashioned, honest service.

We provide up-front pricing, so you'll never have to guess how much your repair is going to cost. We will go over your options so you can make the best choice for your home.