Heating Maintenance in Greenville
We all want to avoid furnace issues as much as possible. During the cold South Carolina winters, a furnace is a necessity. If you want to avoid furnace repair services or even a complete furnace replacement, it's important to focus on heating and furnace maintenance. There are countless benefits to a well-maintained furnace, beyond just having a furnace that doesn't break down! The HVAC contractors at Corley Plumbing Air Electric know all about heating and furnace maintenance, and can help you with all of the heating and air conditioning services you need!
Contact us online or call (864) 517-1251 to learn more about Corley's heating services, today!
What Are the Benefits of Regular Furnace Maintenance?
While you may want to get your furnace tuned up just because you want it to live a long, happy life (which regular maintenance certainly helps with!), there are a lot more benefits you might not know about. Here are a few of the most important benefits of a furnace tune-up:
Your energy bill could decrease significantly. A well-maintained furnace is an energy-efficient furnace, which could lower your energy by up to 30%!
You could detect dangers such as carbon monoxide or gas leaks. If your furnace is gas-powered, it's possible for this gas to leak out if something were to go wrong. Regular furnace maintenance ensures that one of our professional technicians will notice signs of a gas leak before it harms you or a loved one in your

Greenville

home.
Your furnace's warranty would be maintained. Most manufacturer's warranties require that you keep your furnace maintained for up to 10 years. If you ever want to cash in on this warranty, it'd be a good idea to schedule regular maintenance.
Your furnace will just function better in general. There's nothing we want less than for you to be cold and uncomfortable in your home in the winter. Furnace tune-ups will ensure that you come home to a cozy and warm house all winter long!
Take advantage of these benefits with a furnace tune up service from Corley Plumbing Air Electric? Call us at (864) 517-1251, or contact us to learn more!
What Tasks Are Included in a Furnace Maintenance Visit?
If you've never had a furnace tune-up performed on your system, you likely have a few questions about what will actually happen during the service appointment. During a furnace tune-up, your technician will perform a number of tasks. Here's what you can expect them to do:
Examine the vents for any leaks or blockages.
Inspect your heat exchanger for corrosion, separations, or cracks.
Test for a tight seal on your blower access door.
Examine the burner for proper ignition and test the flame sensor to ensure it operates correctly.
Lubricate the motor's moving parts to eliminate friction.
Inspect the blower and cleaning components, including the blower wheel to make sure it has no dirt or debris.
And a lot more!
There are many steps involved in a furnace tune-up. If you're curious about a specific one, a Corley HVAC contractor would be happy to answer your questions!
In need of a furnace tune up in Greenville and Upstate SC and surrounding areas? Then call Corley at (864) 517-1251, or contact us online now!
How Often Should Furnaces Receive Tune Ups?
We recommend contacting Corley in the fall for an annual furnace tune-up. Ideally, it's best to have your heater cleaned and inspected in the fall before you turn it on for the first time. This way our heating and cooling experts can find any possible furnace repair issues before they lead to bigger, more expensive repairs. For more information about our furnace repair and maintenance services, contact the technicians at Corley, today.
High-Quality HVAC Company in Greenville
Corley Plumbing Air Electric is dedicated to providing excellent furnace maintenance services throughout the Greenville area. We are incredibly passionate about training our staff members so they're the best technicians in the business. To ensure this, we've even hired a full-time trainer on our staff to make sure the entire team is up to date on the best practices in the business. We are an honest, caring HVAC company that wants to help serve our community with expert HVAC services!
Corley holds all of the proper, professional qualifications to properly service the great residents of Greenville and surrounding areas. Our HVAC technicians receive ongoing training on a regular basis.
Contact Corley Plumbing Air Electric Today!
While Corley would love to help with your furnace maintenance in Greenville, we can do even more than that. Countless families in the Greenville area turn to us for their heating and cooling needs. Our team of experienced and professional technicians have knowledge in all areas of the heating and cooling industry.
We believe that when you do business with Corley, you'll see why so many customers come back to us and trust our technicians for all of the HVAC services that they need to have completed.
Whatever HVAC issues that come your way, the experts at Corley are here for you. We offer exceptional customer service, answer any of your questions and respond to any issues that you might have. Corley Plumbing Air Electric wants to help you throughout the entire process. If you're in need of an Greenville heating and cooling service provider, give Corley a call today.
Start working with Corley Plumbing Air Electric today by calling (864) 517-1251 or contact us online now!
Bundle HVAC System Purchase with Free UV LIght ($595 Value)
*Exclusions may apply. Cannot be combined with other offers. Call for details.

Founded in 1986, Corley has been proven reliable, efficient, and skilled when it comes to solving all your plumbing, HVAC and electrical needs.

Corley helps you solve your problems today by providing friendly, knowledgeable technicians, state-of-the-art equipment, and old-fashioned, honest service.

We provide up-front pricing, so you'll never have to guess how much your repair is going to cost. We will go over your options so you can make the best choice for your home.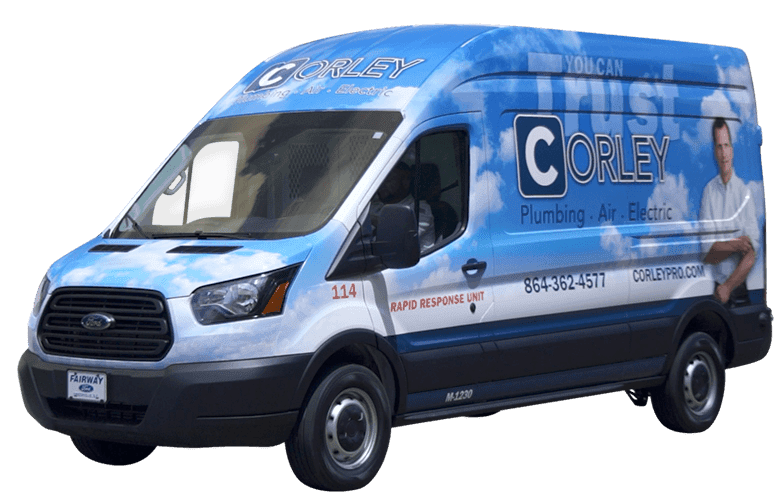 Financing Options Available
At Corley, we understand how important a functioning HVAC system is for your home. This is why we offer flexible
financing options
to help you take care of your new HVAC purchase, so you can get back to taking care of what matters most to you.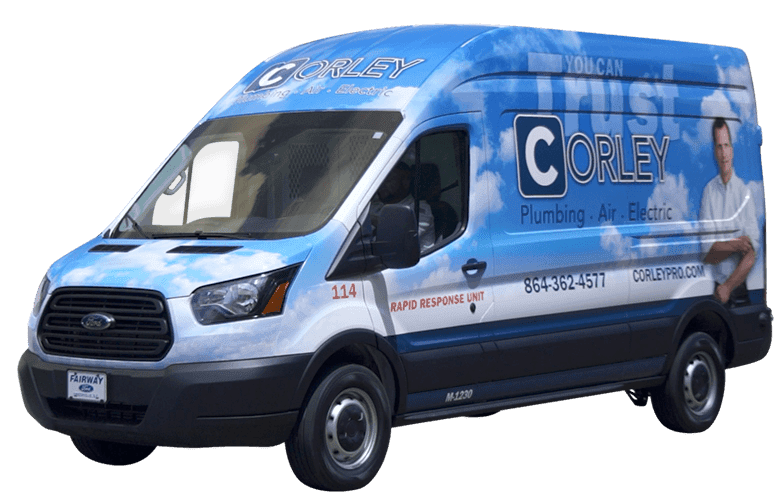 A well-maintained HVAC system can save you from having to invest in costly repairs down the road. Learn more about the
priority maintenance services
offered by Corley Plumbing Air Electric.