Commercial Air Conditioning Services in Greenville, South Carolina
Losing air conditioning can lose your business big bucks. For retail locations, many customers will turn away from a store without a working air conditioner. Warehouses, office buildings, and other workspaces can quickly go from uncomfortable to dangerously hot in the dead of summer. Keep your air conditioner working with some help from the experts at Corley Pro!
We offer comprehensive commercial air conditioning service in Greenville and Upstate South Carolina. We can repair, replace, and maintain your commercial HVAC system to keep your business comfortable and productive.
Commercial Air Conditioning Repair
Don't let the heat beat your business. When a commercial air conditioning unit breaks down, it can leave hundreds to thousands of people uncomfortable–especially in the summer.
If your commercial HVAC system is not working properly, our team of experts can quickly diagnose and repair the problem. We offer 24/7 emergency service so you can get your business back up and running as soon as possible.
Commercial Air Conditioning Replacement
If your commercial HVAC system is old or outdated, it may be time for a replacement. We can help you select the right system for your needs and budget. We also offer financing options to make the replacement process more affordable.
Corley's expert technicians have years of experience installing, inspecting, and repairing commercial HVAC systems throughout Greenville and Upstate SC, as well as the surrounding areas. Our commercial HVAC replacement experts can help you select the perfect model for your business's needs and install it for you properly.
Commercial Air Conditioning Maintenance
Regular maintenance helps extend the life of your commercial HVAC system in the Greenville, South Carolina area, and prevent costly repairs. Our team of experts can perform a thorough inspection and maintenance service on your system to keep it running smoothly.
This service includes but is not limited to:
Lubricating moving parts (such as your blower fan motor)
Ensuring all filters, condensate drains, and burners are clean of debris and dust
Checking the electrical components
Testing the condenser and compressor
Running a full range of diagnostics (to ensure your system is ready for any season)
Contact Us Today
To learn more about our commercial air conditioning services in Greenville and Upstate South Carolina, contact us today. We would be happy to answer any of your questions and schedule a service appointment.
Benefits of Our Commercial Air Conditioning Service Can Include:
24/7 emergency service
Priority service
Financing options
Member Discounts
Regular HVAC Maintenance
Call us (864) 659-2996 today to schedule a service appointment!
Bundle HVAC System Purchase with Free UV LIght ($595 Value)
*Exclusions may apply. Cannot be combined with other offers. Call for details.

Founded in 1986, Corley has been proven reliable, efficient, and skilled when it comes to solving all your plumbing, HVAC and electrical needs.

Corley helps you solve your problems today by providing friendly, knowledgeable technicians, state-of-the-art equipment, and old-fashioned, honest service.

We provide up-front pricing, so you'll never have to guess how much your repair is going to cost. We will go over your options so you can make the best choice for your home.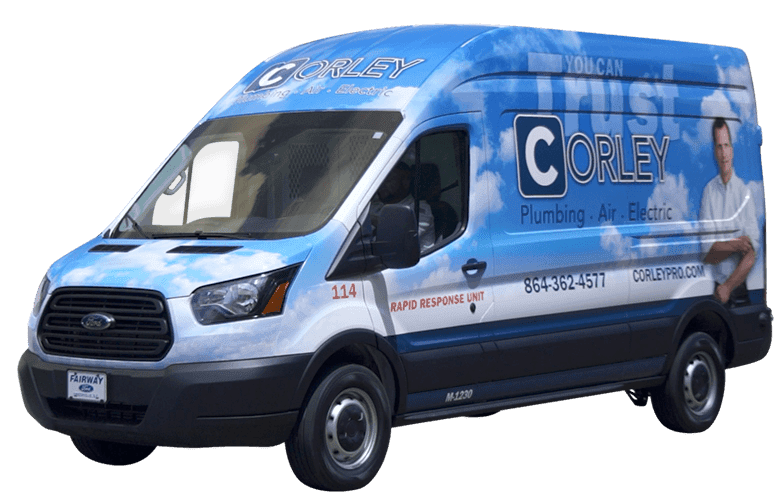 Financing Options Available
At Corley, we understand how important a functioning HVAC system is for your home. This is why we offer flexible
financing options
to help you take care of your new HVAC purchase, so you can get back to taking care of what matters most to you.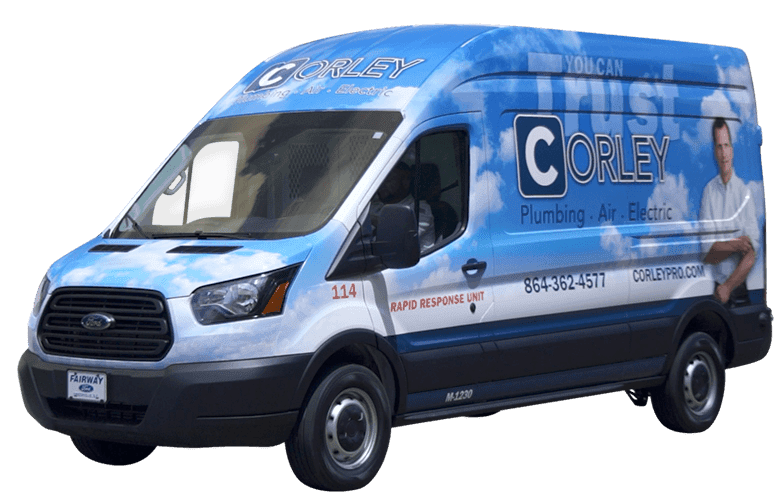 A well-maintained HVAC system can save you from having to invest in costly repairs down the road. Learn more about the
priority maintenance services
offered by Corley Plumbing Air Electric.