Commercial HVAC Rooftop Units in Greenville, South Carolina
If it's time to install a new heating and cooling system in your building in Greenville, South Carolina, or nearby neighborhoods, you want to know the best option for your building's needs. The rooftop HVAC unit is one of the best options. It's highly efficient, doesn't occupy valuable space in or around your building, and reduces noise pollution. 
To learn more about the myriad of rooftop units available today, call Corley Pro. Our experienced commercial HVAC technicians will discuss a commercial HVAC rooftop installation in Greenville, South Carolina, with you, as well as maintenance and service plan options to take care of all of your HVAC needs. Call now for a free estimate!
Commercial HVAC Rooftop Unit Installation
The first step in a new rooftop installation is selecting the best unit for your building and budget. We do this by performing a carefully calculated heat load analysis on the square footage of space in your building that needs to be heated and cooled. We'll need to consider insulation levels, ceiling heights, and a number of other factors.
Once we complete the heat load analysis, we'll discuss the best options for your building, with the various features, efficiencies, and costs. While rooftop units are generally more efficient than residential models, there is still a wide range of options regarding gas furnace AFUE, air conditioner SEER, and overall air filtration and ventilation efficiency. 
If your existing unit needs to be replaced, the removal must be carefully planned so it can be done safely and disposed of properly. We'll discuss this procedure in more detail during the initial consultation. 
Commercial HVAC Rooftop Unit Maintenance
As every business and building manager knows, efficiency is crucial to running a successful business. Your rooftop unit is a significant investment that needs to be routinely serviced. It will run nearly every day of the year, so proper maintenance is essential. We offer a range of heating and cooling commercial maintenance services, including annual tune-ups, on-call maintenance, and quarterly service plans to ensure optimum performance, reduce energy bills, and pre-empt unexpected repairs.
Commercial HVAC Rooftop Unit Repairs
A properly maintained rooftop unit won't break down often, but it happens occasionally. That's why you need to have a trusted HVAC specialist ready to perform emergency repairs if they are ever necessary.
If your rooftop unit stops working, isn't heating or cooling your whole building, or is making loud noises that it did not before, call Corley Pro for rooftop unit repairs in Greenville, South Carolina. 
When it comes to installing, maintaining, and repairing commercial HVAC rooftop units in Greenville, South Carolina, know that you can trust the experienced professionals at Corley Pro.
*Exclusions may apply. Cannot be combined with other offers. Call for details.

Founded in 1986, Corley has been proven reliable, efficient, and skilled when it comes to solving all your plumbing, HVAC and electrical needs.

Corley helps you solve your problems today by providing friendly, knowledgeable technicians, state-of-the-art equipment, and old-fashioned, honest service.

We provide up-front pricing, so you'll never have to guess how much your repair is going to cost. We will go over your options so you can make the best choice for your home.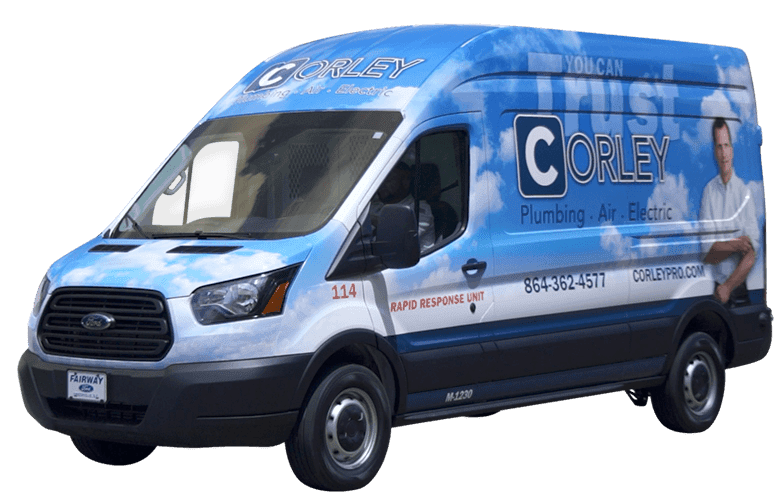 Financing Options Available
At Corley, we understand how important a functioning HVAC system is for your home. This is why we offer flexible
financing options
to help you take care of your new HVAC purchase, so you can get back to taking care of what matters most to you.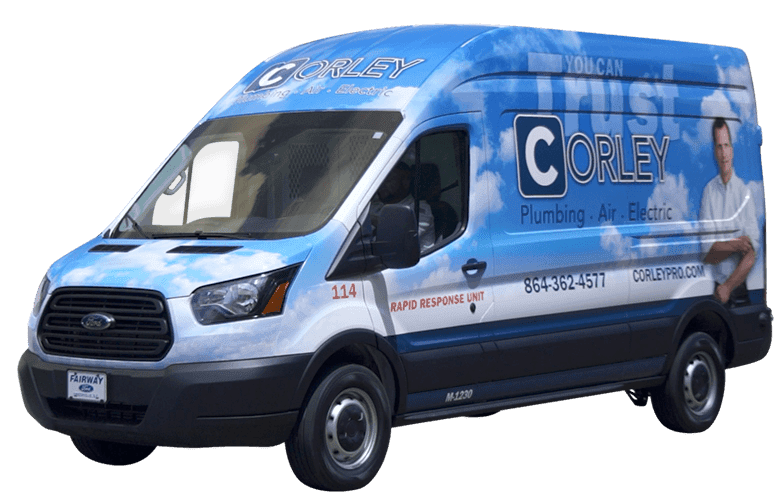 A well-maintained HVAC system can save you from having to invest in costly repairs down the road. Learn more about the
priority maintenance services
offered by Corley Plumbing Air Electric.