Air Purification Services in Greenville and Upstate South Carolina
Inside your home should be a place where you can rest easy knowing that you are safe and comfortable. Unfortunately, many people do not realize that the air inside their house is often filled with contaminants, such as dust and mold. Not knowing the air quality in your Greenville home or business can have negative, long-term side effects on people's health since we spend the majority of our time indoors.
At Corley, your health and safety is our #1 priority. Our indoor air quality specialists offer a number of services to identify the source of low indoor air quality (IAQ) and solutions to improve it.
Signs of Poor Air Quality In Your Home
The US Environmental Protection Agency found poor IAQ can cause a range of symptoms from throat irritation and headaches to more severe issues such as respiratory and heart disease. Corley's Greenville air quality testing team finds the following are often reasons to have your air quality assessed:
You have new allergies or an increase in symptoms 

You live in an older home, which usually has a less advanced ventilation system and/or was more likely to be built with hazardous materials

You are constantly sick with no known cause 

You are moving into a new home and want a healthy start
No matter the reason your home has poor IAQ, you want to get it addressed sooner rather than later. Call Corley to start breathing cleaner air today.
Air Quality Testing in Greenville and the Surrounding Area
In order to provide you with the best and most cost-effective solution, a member of Corley's Greenville air quality testing team will conduct a full health and energy audit. This allows us to determine what contaminants pose the greatest risk and to check for ways to improve overall energy efficiency.
To make sure everything is covered and your home isn't harboring hidden mold spores, we also offer mold testing for Greenville homeowners, as well as homes and businesses throughout upstate South Carolina.
Give Corley a call to get your audit scheduled.
Air Purification Services in Greenville and the Surrounding Areas
If it's necessary to install or update your air purification system to improve your IAQ, Corley has you covered! Updated air purification systems provide Greenville residents relief from airborne contaminants.
Generally, air purifiers use very fine mesh to filter pollutants out of the air, like spaghetti is trapped in a strainer while the water flows out. We recommend the installation of a system that actively exchanges indoor/outdoor air, removes contaminants, tempers humidity, and kills germs, such as bacteria and viruses.
When Corley installs a new, top-rated air quality system in your home, you can enjoy the following benefits:
Allergy symptom improvement and prevention

Enhanced air circulation

Decreased dust in the home

Mold and mildew prevention

And more!
Reach out and chat with one of our Greenville air purification experts to learn more.
Choosing the Right Air Purifier for Your Home
At Corley, our technicians have experience installing and upgrading a variety of air purification systems. We work with you to choose the right system based on the size of your home, age of your home, your budget, and the unique causes for poor IAQ.
With the right combination of systems designed to remove various forms of allergens and contaminants, you'll never need to worry about low IAQ again.
To learn more about the best air purification services in Greenville, call corley Pros at (864) 659-2996 or schedule an appointment online today.
Get ready for the holidays! $50 0ff Corley Garbage Disposal Replacement with 6 Year Warranty
*Exclusions may apply. Cannot be combined with other offers. Call for details.

Founded in 1986, Corley has been proven reliable, efficient, and skilled when it comes to solving all your plumbing, HVAC and electrical needs.

Corley helps you solve your problems today by providing friendly, knowledgeable technicians, state-of-the-art equipment, and old-fashioned, honest service.

We provide up-front pricing, so you'll never have to guess how much your repair is going to cost. We will go over your options so you can make the best choice for your home.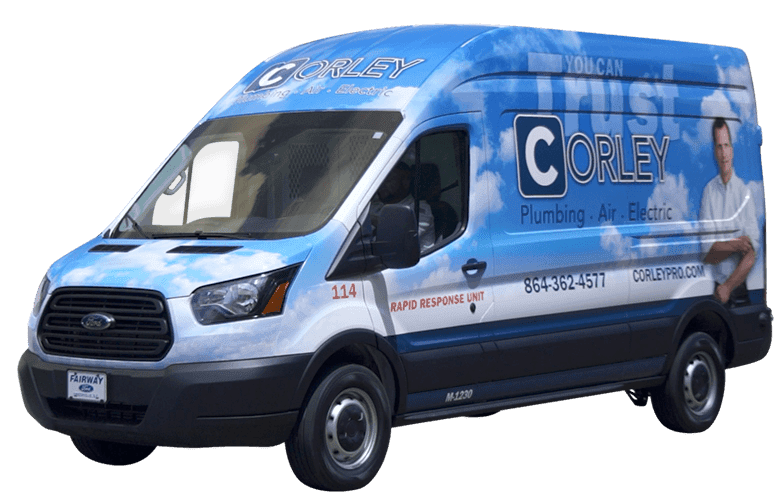 Financing Options Available
At Corley, we understand how important a functioning HVAC system is for your home. This is why we offer flexible
financing options
to help you take care of your new HVAC purchase, so you can get back to taking care of what matters most to you.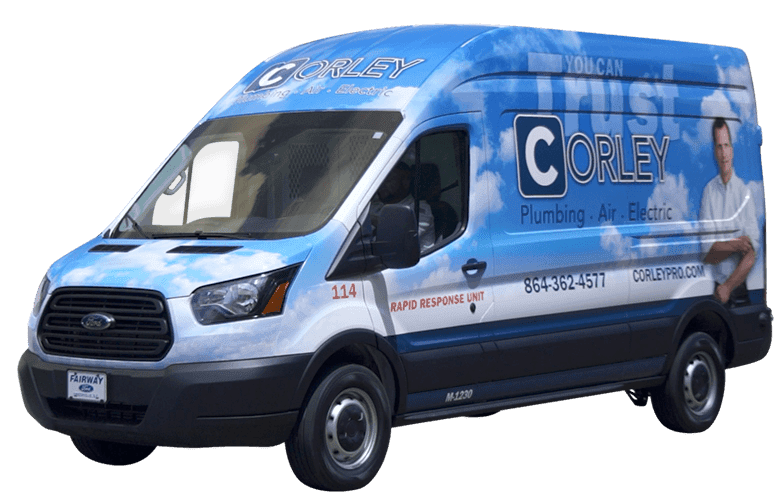 A well-maintained HVAC system can save you from having to invest in costly repairs down the road. Learn more about the
priority maintenance services
offered by Corley Plumbing Air Electric.