To keep your house running smoothly, you need a properly functioning electric system. When lights start to flicker or sparks start to fly, you want to address these problems sooner rather than later.
The Corley Pro team is made up of highly-skilled, knowledgeable electricians to provide fast and reliable electrical repair services in Greenville and the surrounding upstate area. No matter if you're dealing with a wiring issue or a generator that won't start, we're there to get the job done right.
When to Call for Electric Repair
Your electrical system is one of the most used systems in your house. For that reason, you can expect issues to arise from time to time. Since we rely on electricity to go about our daily lives, it's important to address any problems as soon as they arise.
Here are the most common signs that there's an issue with your electrical system:
Lights flickering
Sparking outlets
Strange noises coming from outlets
Burning smell near electrical appliances
Frequently tripping circuit breakers
If you notice any of these around your home, it's time to call Corley's Greeneville electrical repair team. One of our experts will be out to see you ASAP.
Emergency Electrical Repair Services
The team at Corley is on standby whenever an electrical issue arises. Since major problems never seem to happen during regular business hours, we also offer 24-hour emergency electrical repair to Greenville residents, as well as residents in the surrounding area.
Whether it's 9 p.m. or Thanksgiving morning, our expert team is equipped and ready to handle your electrical emergency.
Be Proactive and Avoid Unnecessary Repairs
As a homeowner, your electrical system is a major investment. One of the best ways to take care of that investment and help prevent costly repairs down the road is to stay on top of the necessary maintenance.
While our Greenville electrical repair specialists are always here to help, we don't want you dealing with issues all the time. That is why we offer our Corley Service Partner Plan for HVAC maintenance in Greenville and Upstate South Carolina.
This plan includes:
No dispatch charge
Priority response time
Personal concierge line
Convenient monthly payments
Annual comfort and safety inspection of your home's HVAC system from our Greenville electrical maintenance team
With Corley, you can count on fast, reliable electrical repair services in Greenville and the surrounding area. Give us a call at (864) 659-2996 or schedule an appointment online today.
$99 Toilet Unclog with Free Camera Inspection
*Exclusions may apply. Cannot be combined with other offers. Call for details.

Founded in 1986, Corley has been proven reliable, efficient, and skilled when it comes to solving all your plumbing, HVAC and electrical needs.

Corley helps you solve your problems today by providing friendly, knowledgeable technicians, state-of-the-art equipment, and old-fashioned, honest service.

We provide up-front pricing, so you'll never have to guess how much your repair is going to cost. We will go over your options so you can make the best choice for your home.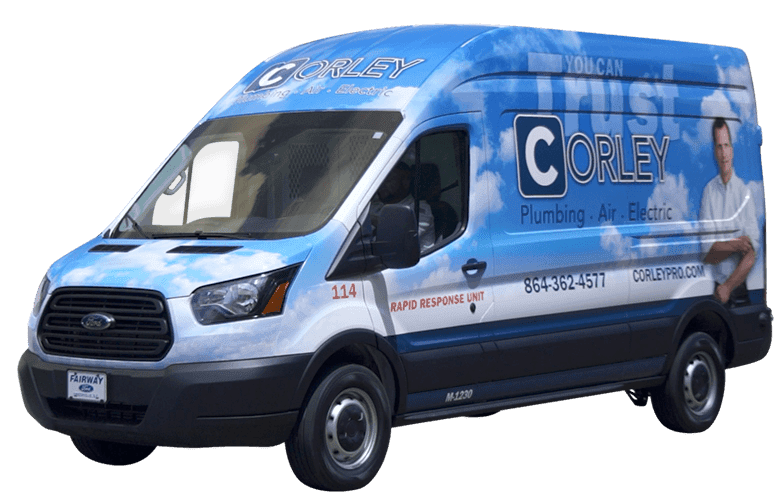 Financing Options Available
At Corley, we understand how important a functioning HVAC system is for your home. This is why we offer flexible
financing options
to help you take care of your new HVAC purchase, so you can get back to taking care of what matters most to you.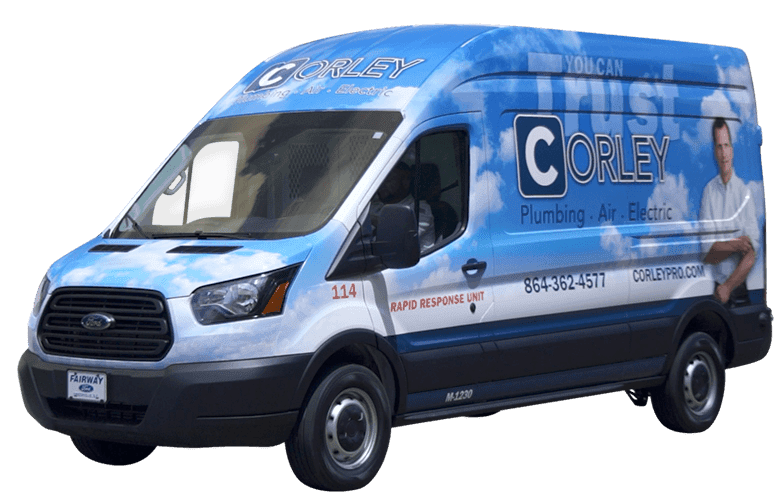 A well-maintained HVAC system can save you from having to invest in costly repairs down the road. Learn more about the
priority maintenance services
offered by Corley Plumbing Air Electric.