Dehumidifier Services in Greenville and Upstate South Carolina
If your home feels muggy and damp throughout the year, it's time to consider installing a whole-home dehumidifier. These systems work in a similar way as air conditioners, except their primary goal isn't to keep you cool, but to keep the air you breathe safe.
At Corley, the health and safety of you and your family is our main concern. We offer a number of air purification services for Greenville area residents, including whole-home dehumidifiers, to improve the indoor air quality (IAQ) of your home.
How a Whole-Home Dehumidifier Works
While a humidifier increases the amount of moisture in the air, a dehumidifier does the opposite. It draws warm air into its coils using a fan. When the warm air contracts, it leaves condensation behind in the machine. Then, the dehumidifier gets to work by making cooler, drier air to circulate throughout your home.
There's a chance your air conditioning system might already have some minor dehumidifying capabilities. However, during the hot, humid summer months, a dehumidifier in your Greenville area home makes a world of difference.
Benefits of a Whole-Home Dehumidifier
South Carolina residents aren't strangers to the sticky feel of humidity. It's one thing for it to feel like a rainforest outside, but in your home, you want to be able to rest comfortably and breathe easily.
When it's humid, there's excess moisture in the air that makes it harder for your body to release heat through perspiration. This makes already hot temperatures feel even hotter. The main reason to install a whole-home dehumidifier is to balance the relative humidity in your house to take the edge off the heat.
Beyond that, there are other benefits to expect from installing a dehumidifier in your Greenville area home:
Decreased Energy Costs: You can expect to run the AC much less when humidity is properly balanced, which can lead to a significant drop in your electrical bills each month.
Reduced Water Damage: High humidity creates moisture along surfaces and can lead to water damage. Wood rot and destruction from mildew are common in houses that suffer from high humidity. A dehumidifier will eliminate this issue at the source.
Improved Overall IAQ: Too much moisture in the air can cause serious issues for your home and health. Mold releases toxic spores into the air that can cause a range of illnesses, especially for people in your home with asthma and allergies.
Call Corley to start breathing easier with the best dehumidifier services in the Greenville area and upstate South Carolina.
Choosing the Right Dehumidifier for Your Home
It's important to be careful when choosing the dehumidifier for your home. While you want to decrease moisture, if the unit you choose is too powerful or unsuited for your home, it will make the air too dry.
At Corley Pros, a member of our Greenville area dehumidifier team will use their expertise to work with you to pick and install a whole-home dehumidifier that's right for you.
To learn more about the best dehumidifier services in the Greenville area, call Corley Pros at (864) 659-2996 or schedule an appointment online today.
Bundle HVAC System Purchase with Free UV LIght ($595 Value)
*Exclusions may apply. Cannot be combined with other offers. Call for details.

Founded in 1986, Corley has been proven reliable, efficient, and skilled when it comes to solving all your plumbing, HVAC and electrical needs.

Corley helps you solve your problems today by providing friendly, knowledgeable technicians, state-of-the-art equipment, and old-fashioned, honest service.

We provide up-front pricing, so you'll never have to guess how much your repair is going to cost. We will go over your options so you can make the best choice for your home.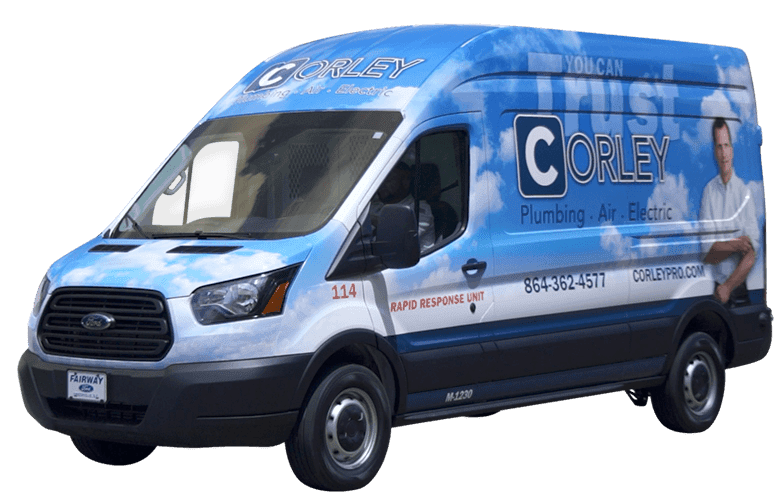 Financing Options Available
At Corley, we understand how important a functioning HVAC system is for your home. This is why we offer flexible
financing options
to help you take care of your new HVAC purchase, so you can get back to taking care of what matters most to you.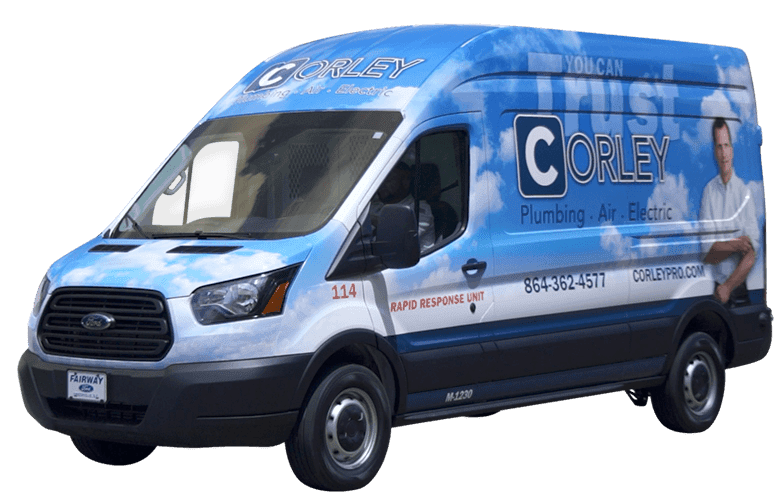 A well-maintained HVAC system can save you from having to invest in costly repairs down the road. Learn more about the
priority maintenance services
offered by Corley Plumbing Air Electric.