Heat Pump Installation & Repairs in Greenville, SC
There are many options for your home's heating system, but few are as energy-efficient and cost-effective as a modern heat pump. Technology has advanced rapidly in recent years, making it possible to heat your home 99% of the time with a heat pump and ensuring you save a lot of money on your future energy bills.
If you are interested in having a new heat pump installed in your home or need service or maintenance on an existing heat pump, now is the time to call Corley Plumbing Air Electric. Our technicians are on call to assist with any needs you might have and can keep your system running smoothly each winter for years to come.
Heat Pump Replacement in Greenville, SC
At Corley Plumbing Air Electric, our goal is to provide our customers with energy-efficient options. If your heat pump isn't working, this isn't doing you any favors and it's certainly not keeping your home warm. When you need professional heating repair services for your home's heat pump system, give us a call. Our HVAC contractors are experienced in heat pump technology and have the advanced knowledge to make long-lasting repairs. We'll troubleshoot problems and come up with the most economical solutions to get your heat working again in no time at all. Contact us today to learn more about our heat pump replacement services and find the right heating system for your home.
Heat Pump Installation in Greenville, SC
Heat pump installation in Greenville starts with selecting a system that matches the heating needs of your home. We do this by measuring the heated square footage of your home and inspecting your existing ductwork and air handler.
It's important that a heat pump is selected that exactly matches the needs of your home on a cold day—too small and it will never heat your home effectively, too large and it will cycle on and off frequently and cost more to operate.
In addition to sizing, you should take into account the efficiency of your new heat pump. Heat pumps are rated for both heating and cooling. The heating rating is an HSPF and anything above a 10.0 is considered very good. For cooling, the industry-standard SEER rating is used, so look for a number above 14.
Greenville Area Heat Pump Maintenance
After you have installed a new heat pump, you want to ensure it continues to work properly. This means having regular maintenance performed on the system to check for loose connections, replace any bad parts, and make upgrades where necessary. A heat pump is a major investment and is used year-round, so it is important to keep it tuned up with biannual maintenance visits.
Heat Pump Repair in the Greenville Area
Because it has so many moving parts, a heat pump can lose efficiency over time or stop working properly at any point. If this happens, call us for emergency repair services. We can visit your home any time of the day and inspect your heat pump for the possible cause of the malfunction. We test the system thoroughly during the repair visit to ensure it will work after we leave and that you have reliable heat.
Whatever your heat pump needs, know that Corley Plumbing Air Electric is here to help. Whether you are ready to install a new heat pump or have an old one replaced, or if you need someone to take over the regular maintenance of an existing heat pump, we are the providers to call in the neighborhoods and areas surrounding.
Bundle HVAC System Purchase with Free UV LIght ($595 Value)
*Exclusions may apply. Cannot be combined with other offers. Call for details.

Founded in 1986, Corley has been proven reliable, efficient, and skilled when it comes to solving all your plumbing, HVAC and electrical needs.

Corley helps you solve your problems today by providing friendly, knowledgeable technicians, state-of-the-art equipment, and old-fashioned, honest service.

We provide up-front pricing, so you'll never have to guess how much your repair is going to cost. We will go over your options so you can make the best choice for your home.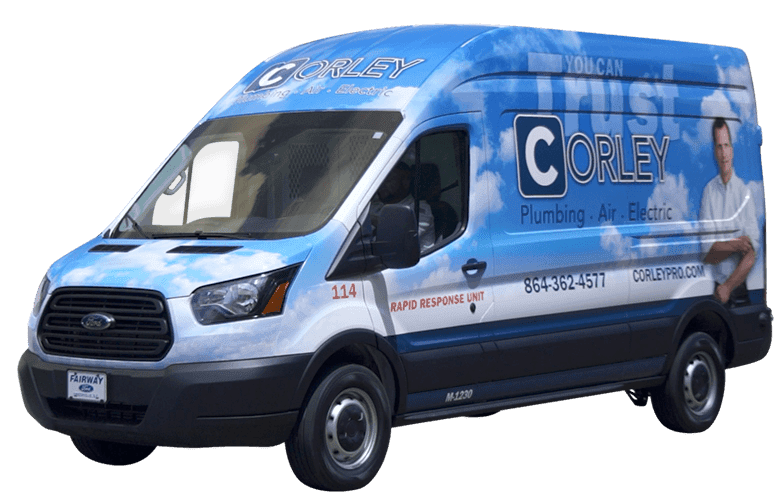 Financing Options Available
At Corley, we understand how important a functioning HVAC system is for your home. This is why we offer flexible
financing options
to help you take care of your new HVAC purchase, so you can get back to taking care of what matters most to you.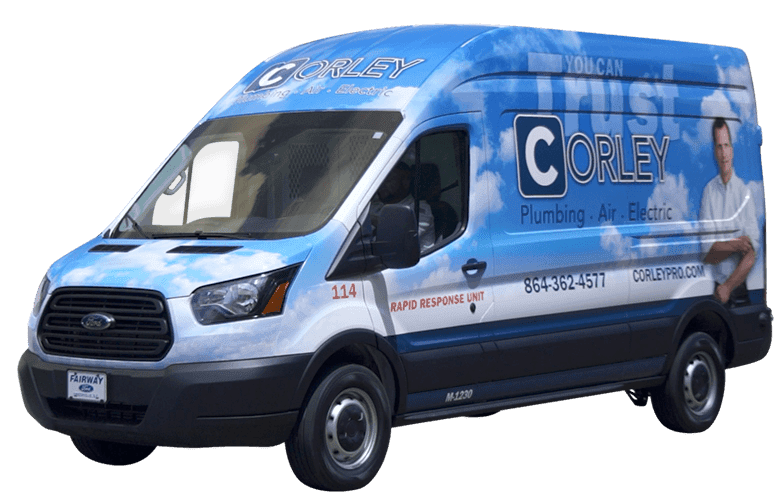 A well-maintained HVAC system can save you from having to invest in costly repairs down the road. Learn more about the
priority maintenance services
offered by Corley Plumbing Air Electric.