Corley Heating & Furnace Repair Services
Heating Repair and Replacement Services
Heating systems are designed for long-term use, but eventually, even the best heating systems need to be repaired or replaced. If you can acknowledge any of the following statements, it may be time to consider replacing or upgrading your furnace or heat pump:
Your system is more than 10 years old.

If you notice that some rooms are hot or cold.

Your monthly energy costs are going up for no clear reason.

Your equipment is running loudly or breaking down frequently.
Does That Strange Sounds That Signal Trouble?
When you've had a heat pump or furnace for some time, you get used to the sound of it turning on or cycling down. If you begin to hear sounds you don't recognize coming from your system, it may indicate a loose component or the need for a good cleaning, or it could be a sign that something is going wrong with your heating system. If you're worried about the future of your heating system, our certified technicians can inspect your furnace and provide a cost-effective, quick solution to any problem we encounter.
Strange noises may be described in many ways, and most are benign or easily fixed. Some of the most common noises you may notice include the following:
Whistling- If this sound emanates from your air ducts, you may have a dirty air filter or an air leak.

Grinding- If your furnace makes the sound of metal grinding against metal, you may have a loose or broken blower wheel.

Banging- A dirty burner can delay the ignition of your gas furnace, allowing gas to build up. The excess gas causes a small "boom" or banging sound.

Whining or squealing- Your blowing motor bearings may have gone bad, or your blower belt is loose.

Clicking- If you hear this while your heater is running, your heat exchanger may have a crack. This can be dangerous, as a cracked exchanger allows carbon monoxide to leak into your living space.
Heating Inspections And Service to Reduce Heating Costs
With the cost of utilities steadily rising, now is the time to look for ways to compensate for the increase in your heating bill. Here are just a few ways to save on your heating costs this winter:
Turn your thermostat down a couple of degrees or invest in a smart/programmable thermostat that will automatically lower your home's temperature when you're not there.

Fix window gaps and install window coverings.

Change the filter on your furnace at least once every three months during colder weather.

Call an HVAC professional such as Corley to inspect, clean, or repair your furnace to optimize its efficiency.

Consider upgrading to an Energy Star heating system.

Insulate your attic or loft to keep heat from slipping out.

Seal and insulate ducts in unused parts of the house.
To further save energy and reduce your carbon footprint, you should shut your furnace down during the summer months, particularly if you have a gas furnace; turning the pilot light off and closing the gas supply valve prohibits corrosion and allows you to reduce wear and tear on your heating system.
The Lifespan of Your Furnace
Most HVAC systems can last from 15 to 25 years with the proper preventative maintenance. Of course, the lifespan of your heat pump or furnace may vary based on its fuel source, design, style and level of usage.
Gas furnace—With the proper care and maintenance, you may get 20-30 years out of your gas furnace. However, you're looking at a much lower lifespan without preventative maintenance.

Oil furnace—You may be able to use your oil furnace for up to 15 years, depending on the efficiency of the fuel you're using and how well you maintain your system. Some modern oil furnaces can last up to 30 years.

Boiler—The average lifespan of a boiler ranges from 20-35 years.

Heat pump—In general, the lifespan of the heat pump ranges from 10-20 years, but this varies widely based on where you live and how well you care for your system. If you live in a coastal area, you may only get 7-10 years out of your heat pump because of the corrosive effects of salt water.

Ductless mini-split—This heating system also has a wide lifespan range, lasting anywhere between 10 years and 30 years.
Energy Star heating systems—According to recommendations from The Environmental Protection Agency (EPA) and the Department of Energy, you should replace your Energy Star-certified furnace every 15 years.

Choosing a New Heating System
Eventually, you'll have to let your old, worn-out furnace go and pursue a new alternative. Choosing the best heating system for your home is not just about personal preference; your decision must take into account your geographical location, budgetary limitations, and the design or layout of your home.
Electric furnaces are ideal if you live in a southern or coastal state with mild winters. Because you won't need to run your furnace constantly, you don't have to worry about the sickeningly high utility bills associated with electric furnaces.
The availability of natural gas, propane, and oil-fueled furnaces varies in different parts of the country, ultimately affecting the type of furnace you choose. Oil furnaces are commonly used in New England states and remote areas that have harsh winters; propane is a popular choice for rural residents, particularly in the Midwest and Appalachian states; natural gas furnaces are predominant in Louisiana, West Virginia and western Pennsylvania but can be found scattered across much of the country.
If you're trying to decide whether an electric or gas-fueled furnace would be better for your home, you'll find that it isn't so much about which of the two furnace types is better. It is more about which of the two will be the most affordable and convenient for your lifestyle and location.
While the electric furnace is cheap, convenient and easy to upkeep, the high cost of electricity almost negates those benefits. Gas furnaces are a little more expensive upfront, but they produce a higher temperature heat than an electric furnace, and the fuel costs much less than electricity.
Of course, fuel for your gas furnace may not be readily available in your area. Also, if you don't already have the ductwork, connections, or equipment to accommodate a natural gas, propane or oil furnace, you could spend thousands of dollars just to set up your gas heating system.
Buy a New HVAC Complete System
As low as $95 a month with financing
*Exclusions may apply. Cannot be combined with other offers. Call for details.

Founded in 1986, Corley has been proven reliable, efficient, and skilled when it comes to solving all your plumbing, HVAC and electrical needs.

Corley helps you solve your problems today by providing friendly, knowledgeable technicians, state-of-the-art equipment, and old-fashioned, honest service.

We provide up-front pricing, so you'll never have to guess how much your repair is going to cost. We will go over your options so you can make the best choice for your home.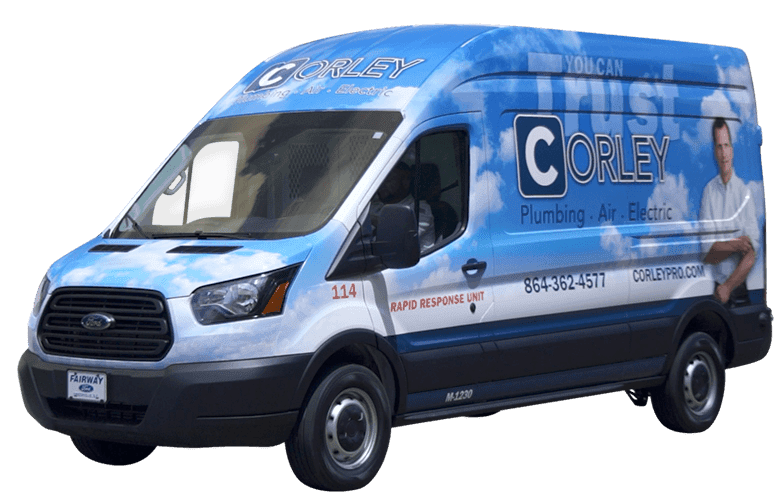 Financing Options Available
At Corley, we understand how important a functioning HVAC system is for your home. This is why we offer flexible
financing options
to help you take care of your new HVAC purchase, so you can get back to taking care of what matters most to you.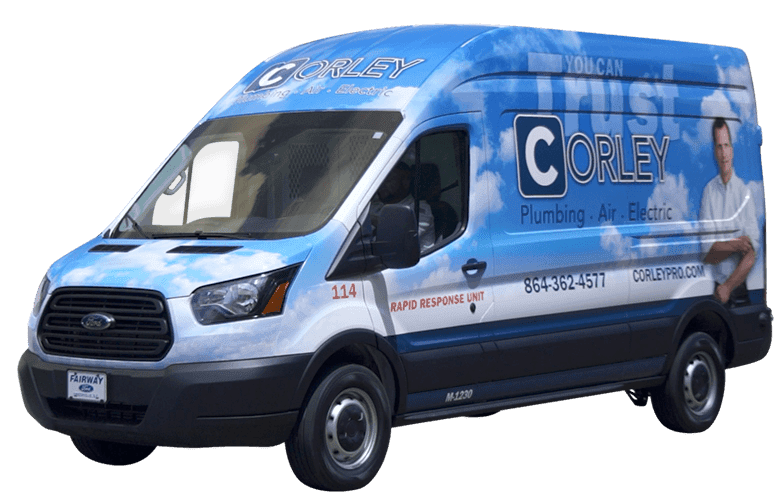 A well-maintained HVAC system can save you from having to invest in costly repairs down the road. Learn more about the
priority maintenance services
offered by Corley Plumbing Air Electric.