Electrical Repair in Greenville SC
What Is a "Short" or "Short Circuit"?
Simply put, a short circuit occurs when an electrical current ends up flowing through an unintended pathway. This can happen as a result of damaged wires touching each other. Damage to wires can occur from any number of factors, including water damage, vermin and pests chewing through wires, or simply older, worn out wires. Other outside factors can cause short circuits as well, such as an electrical surge or electrical wiring that is too close to other conductive materials, such as nails.
Electrical Services in Greenville, SC
Smoke & Carbon Monoxide Detectors
Electrical Panel Installation
Exhaust Fan Installation
Outlet & Dimmer Switch Installation
Grounding & Bonding Issues
Preventative Services
24-Hour Emergency Service
How Often Should You Test Electrical Equipment?
Ideally, should check your various electrical appliances every month for visible damage. Ground fault circuit interrupter (GFCI) outlets need testing at least twice a year by pressing the "test" button on them. If they're working properly, then the test button should briefly stop the flow of electricity to any connected appliances, and the "reset" button will pop out.
For your whole electrical system, it's recommended to get a residential electrical inspection at least every 3-5 years. For homeowners living in older homes or in a recently purchased home, it's better to get an inspection sooner to ensure your system is working properly.
Why Your Smoke Detectors Are Chirping
Most commonly, smoke detector chirping is the result of having a low battery. Simply replace the battery and reset the smoke detector to fix the issue. Occasionally, the chirping may indicate that the smoke detector is faulty and needs to be replaced. Be sure to check the manufacture date on your smoke detector, and if it's more than 8-10 years old, it's best to replace the device.
How We Handle Emergency Electrical Issues
Here at Corley Plumbing Air Electric, we handle emergency electrical issues with a professional, knowledgeable team that is available 24 hours a day. If your home is experiencing a power outage or other emergency that needs immediate attention, our skilled electricians are always ready to provide electrical repairs. Whether you need commercial or residential electrical repairs in an emergency, we're sure to have a solution that fits your needs, whenever you need it.
Signs That You May Need Electrical Repair Work
There are a number of telltale signs that you may need electrical repair services on your property that you should always be on the lookout for. If your home is experiencing any of the following, you should consider scheduling residential electrical repair services:
Consistently sparking outlets

Unusual noises coming from outlets

Burning smell near electrical appliances

Frequently tripping

circuit breakers
Any of these signs could indicate that your electrical system is damaged and needs repair. If you notice these in your home, be sure to schedule an appointment today for electrical repairs.
Residential Electrical Services in Greenville, SC
At Corley Air Plumbing Electric, we offer a wide variety of electrical installation and electrical maintenance services. From installing outdoor lighting to indoor ceiling fans and overhead lighting, we can help in equipping your home with high-quality fittings. Our maintenance and installation services also include looking after other aspects of your home, such as outlet and dimmer switches, exhaust fans, and installation of wiring around the whole house. Our qualified technicians also offer inspections to keep your electrical system working properly, as well as home surge protection systems that will keep your system safe.
No matter what your electrical needs are, Corley Air Plumbing Electric is the residential electrical company that will keep your home safe and secure with our dedicated team of professionals. Contact us today!
$1,500 off 18 SEER or Higher, $1,000 off below 18 SEER
*Exclusions may apply. Cannot be combined with other offers. Call for details.
Expires: January 31, 2023

Founded in 1986, Corley has been proven reliable, efficient, and skilled when it comes to solving all your plumbing, HVAC and electrical needs.

Corley helps you solve your problems today by providing friendly, knowledgeable technicians, state-of-the-art equipment, and old-fashioned, honest service.

We provide up-front pricing, so you'll never have to guess how much your repair is going to cost. We will go over your options so you can make the best choice for your home.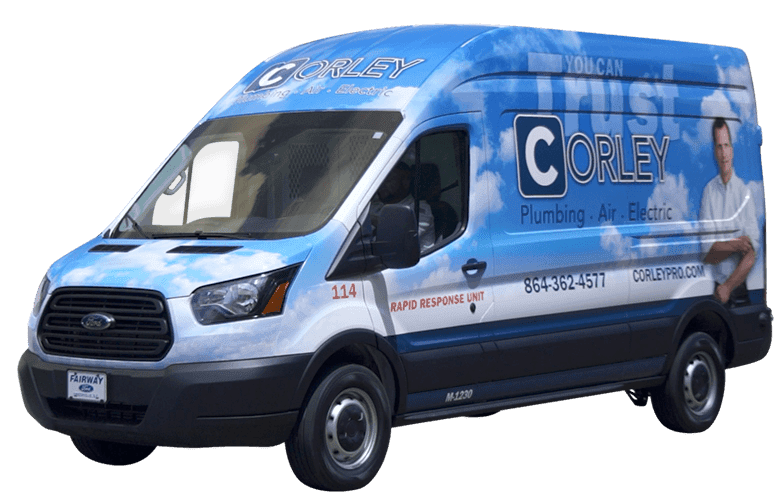 Financing Options Available
At Corley, we understand how important a functioning HVAC system is for your home. This is why we offer flexible
financing options
to help you take care of your new HVAC purchase, so you can get back to taking care of what matters most to you.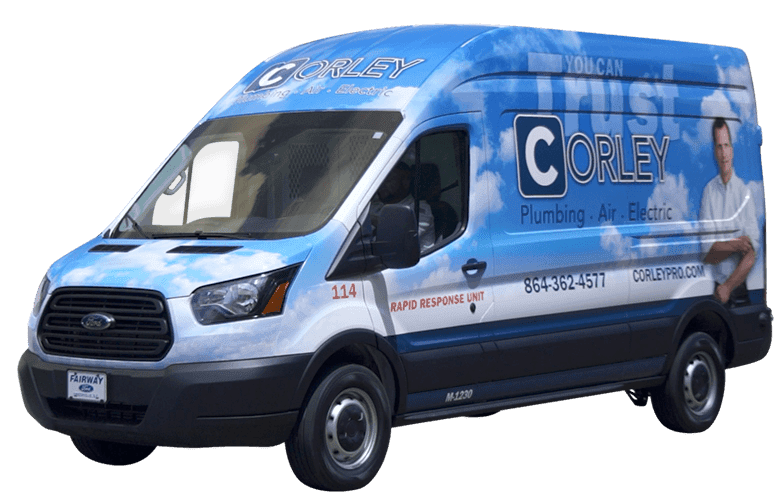 A well-maintained HVAC system can save you from having to invest in costly repairs down the road. Learn more about the
priority maintenance services
offered by Corley Plumbing Air Electric.