Electrical Services in Greenville and Upstate South Carolina
A properly working electrical system is essential in today's world. It keeps everything in your house running smoothly, including outlets to charge devices and the air conditioner to keep everyone cool. You need to make sure your electrical system is up-to-date and any issues are addressed quickly.
At Corley, we provide fast and reliable electrical services in Greenville and the surrounding upstate area. Our team of electricians is equipped to handle anything from lighting installation and repair to preventive services such as grounding. No matter the job, we'll get it done right.
Signs You May Need Electrical Repair Work
Due to the frequency with which we all use electricity in our homes, it is common for parts of the system to break down from time to time.
Our Greenville electricians have seen it all. From our experience, here are the telltale signs that something might need repaired:
Flickering or dimming lights

Consistently sparking outlets

Unusual noises coming from outlets

Burning smell near electrical appliances

Frequently tripping circuit breakers
If you notice any combination of these issues, it's time to schedule an appointment with a Corley electrical expert today.
Residential Electrical Services in Greenville and the Surrounding Area
Since your home has a unique electrical system to fit its specific structure and features, you want an electrician to be able to find a personalized solution to any problem you might have. That's where Corley comes in. When you give us a call, an expert Greenville residential electrician will arrive at the scheduled time to determine the problem and clearly explain the repair options–including cost. Once they have the all clear from you, they will use their knowledge and experience to get the job done in a timely manner. 
We offer some of the highest quality residential electrical repair services in Greenville and upstate South Carolina. This includes: 
Wiring and Rewiring:

Repairing, installing, or replacing

residential wiring

is a complex process, as numerous codes and regulations must be followed to ensure the system is safe. Our expert electricians are highly trained to tackle wiring projects of all scopes and sizes. This includes professionally installing or updating wiring for appliances, smoke alarms, standby generators, lighting, ceiling fans, and more.
Preventive Measures:

Corley knows your home is filled with valuable electrical equipment that you use on a daily basis. Let us help you take proactive steps to protect what you own with a

whole home surge protector

. In case of a power surge, a whole home protector stops the surge at the source before it enters your home and causes damage.
Electric Car Charging Stations:

Electric cars are a great option to not only help the environment but also help you save money. To get the most out of this investment, you will want an in-home charging station. That is why Corley offers our expertise to

install

electric car charging stations

in Greenville

homes. Give us a call to learn more about your options.  
Generator Installation, Repair, and Maintenance:

With an emergency backup home generator, you never have to worry about what to do in case of a power outage. Corley technicians can handle any and all of your

generator needs

, whether it is installing a brand new one, making quick repairs, or providing the necessary maintenance to keep your generator operating smoothly. 
Emergency Electrical Services in Greenville
and the Surrounding Area
No matter the time of day, Corley is ready to handle any pressing issues with a professional, knowledgeable team. We offer 24-hour emergency electrical repair to Greenville residents, as well as residents in the surrounding area. Day or night, our expert team is equipped and ready to handle your electrical emergency. 
At Corley, we provide you with the most reliable and cost-effective electrical services in Greenville. Give us a call at (864) 659-2996 or schedule an appointment online today.
$1500 off Whole Home Generator plus 1 Year Service Partner Membership
*Exclusions may apply. Cannot be combined with other offers. Call for details.

Founded in 1986, Corley has been proven reliable, efficient, and skilled when it comes to solving all your plumbing, HVAC and electrical needs.

Corley helps you solve your problems today by providing friendly, knowledgeable technicians, state-of-the-art equipment, and old-fashioned, honest service.

We provide up-front pricing, so you'll never have to guess how much your repair is going to cost. We will go over your options so you can make the best choice for your home.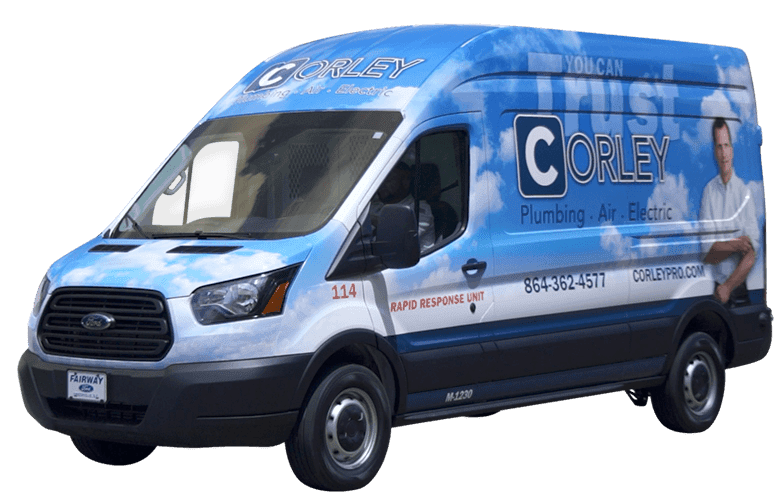 Financing Options Available
At Corley, we understand how important a functioning HVAC system is for your home. This is why we offer flexible
financing options
to help you take care of your new HVAC purchase, so you can get back to taking care of what matters most to you.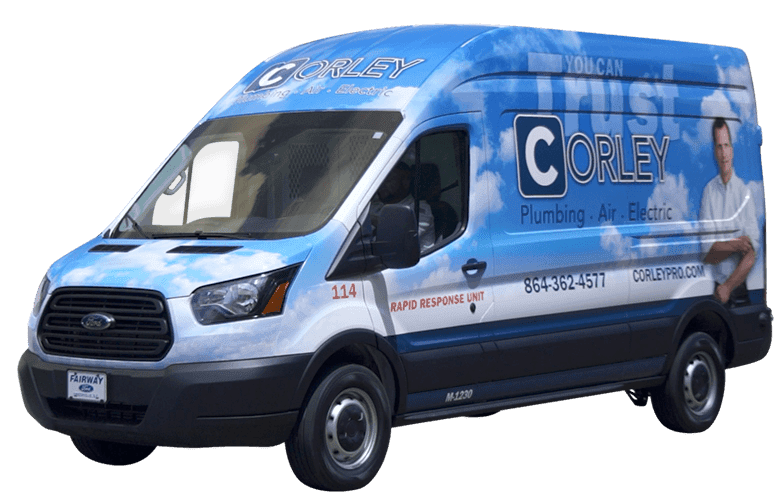 A well-maintained HVAC system can save you from having to invest in costly repairs down the road. Learn more about the
priority maintenance services
offered by Corley Plumbing Air Electric.