Heavy rain can cause a buildup of water below the ground. Without a sump pump or ejector pump, your home is at an increased risk of flooding.
Corley Pro is here to help you be proactive and protect your home from water damage. We offer professional and reliable sump pump services that Greenville residents can count on.
Benefits of Installing a Sump Pump
Placed at the lowest point in your home (typically the basement), a sump pump is a cost-effective way to prevent flood damage. It draws in excess water and pumps it out and away from your home's foundation. They are installed in sump pits, which are dug as centrally as possible to help ensure the best possible drainage.
There are several benefits to sump pumps beyond flood protection. This includes:
Protects from mold and mildew growth
Prevents insect and pest infestations
Improves overall indoor air quality
Protects major, costly appliances such as your water heater
Protects paint from peeling
Take advantage of these benefits with Corley Pro's sump pump services in Greenville and the surrounding area.
Residential Sump Pump Services
At Corley, we're your go-to for all your sump pump needs. No matter if you're looking to install a new unit or need an existing one repaired, you can count on us to be there.
Sump Pump Installation and Replacement
If you're ready to add a sump pump or need one replaced, don't hesitate to give us a call. Our qualified and experienced Greenville sump pump installation technicians will be with you every step of the way.
They will work with you on choosing the right sump pump for your home: a pedestal or submersible sump pump. Part of our sump pump replacement services in Greenville involves a member of the Corley team assessing your home and providing professional recommendations for a new unit.
Sump Pump Repair
A sump pump is not actively working. The float valve is activated only when the water level reaches a certain point. That's why it's important to keep an eye out for any potential issues, especially during times of heavy rainfall.
Our Greenville sump pump repair specialists recommend looking out for the following with your unit:
Strange Noises
Vibrations
Not Turning On
Rust or Exterior Damage
Water Pooling Outside the Drain
These are all indications that something could be wrong, and it is important to get any issue addressed as soon as possible. At Corley, we offer fast and reliable sump pump repair services in Greenville so that your sump pump can get back to doing what it needs to.
Sump Pump Maintenance
You might not think about your sump pump until it's raining heavily. But if you take the time to consider its maintenance when it isn't raining, then you'll have to worry less the next time it storms. That's why we recommend having a licensed plumber conduct regular maintenance of your unit.
A qualified member of our Greenville sump pump maintenance team is happy to make sure your unit is working correctly and ready to handle any rain that may come.
If you're looking for professional and affordable sump pump services in Greenville or the surrounding area, look no further. Contact Corley Pro at (864) 659-2996 or schedule an appointment online today.
10% off Full System Install (18 SEER or HIgher)
*Exclusions may apply. Cannot be combined with other offers. Call for details.

Founded in 1986, Corley has been proven reliable, efficient, and skilled when it comes to solving all your plumbing, HVAC and electrical needs.

Corley helps you solve your problems today by providing friendly, knowledgeable technicians, state-of-the-art equipment, and old-fashioned, honest service.

We provide up-front pricing, so you'll never have to guess how much your repair is going to cost. We will go over your options so you can make the best choice for your home.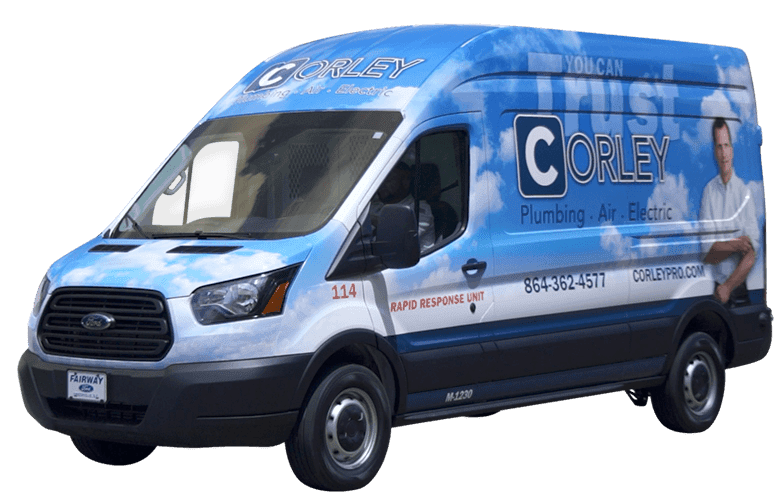 Financing Options Available
At Corley, we understand how important a functioning HVAC system is for your home. This is why we offer flexible
financing options
to help you take care of your new HVAC purchase, so you can get back to taking care of what matters most to you.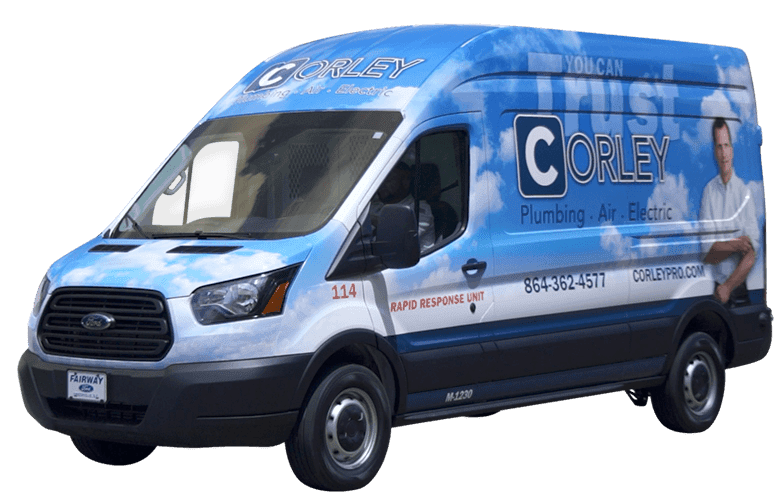 A well-maintained HVAC system can save you from having to invest in costly repairs down the road. Learn more about the
priority maintenance services
offered by Corley Plumbing Air Electric.