Indoor and Outdoor Lighting
The right lighting has a huge impact on your home's appearance and feel. When placed just right, it can be used to create a warm, inviting atmosphere inside your home or in an outdoor living area. It can also be used to make your property less appealing to burglars and would-be intruders. From security lighting to stylish lighting to give your home a brand-new look and feel, there are indoor and outdoor lighting solutions that are perfectly suited to any application. At Corley, we are here to help with indoor and outdoor lighting in Greenville, SC.
We Offer a Full Range of Indoor and Outdoor Lighting Solutions
From simple recessed lights and ceiling fans to high-end lighting projects, our electricians are equipped to tackle any lighting job inside or outside your home. We know how much of an impact lighting design can have on the entire look and feel of your home, and we will do everything in our power to help you implement the lighting you've always dreamed of.
At Corley Plumbing Air Electric, we offer a complete range of indoor and outdoor lighting services, including:
Ceiling fans
Recessed lighting
Track lights
Spotlights
Security lighting
Patio lighting
Deck lighting
Landscape lighting
Garden lighting
Exterior walkway lighting
Lighting Design and Installation
Whether you are replacing or installing just a few new light fixtures or you are considering a much later project, you need a Greenville area electrician with the knowledge and skills necessary to get the job done right. At Corley, we can help.
From helping you come up with a design that is perfectly suited to your home and your budget to installing your new light fixtures inside or outside your home, we will help you through every step of the process. We stand behind our work, and you can rest assured knowing that your lighting project will be completed safely.
For indoor and outdoor lighting in Greenville, SC and the surrounding communities, look no further than the licensed and insured electricians right here at Corley Plumbing Air Electric. To schedule an appointment, please call (864) 517-1251.
Bundle HVAC System Purchase with Free UV LIght ($595 Value)
*Exclusions may apply. Cannot be combined with other offers. Call for details.

Founded in 1986, Corley has been proven reliable, efficient, and skilled when it comes to solving all your plumbing, HVAC and electrical needs.

Corley helps you solve your problems today by providing friendly, knowledgeable technicians, state-of-the-art equipment, and old-fashioned, honest service.

We provide up-front pricing, so you'll never have to guess how much your repair is going to cost. We will go over your options so you can make the best choice for your home.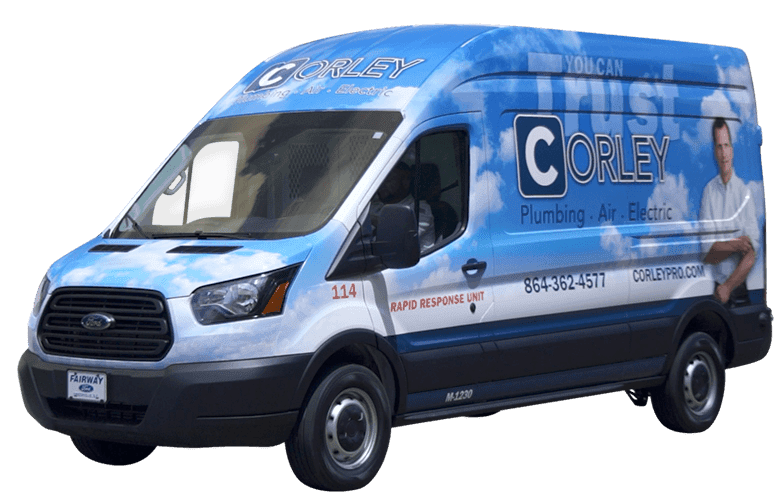 Financing Options Available
At Corley, we understand how important a functioning HVAC system is for your home. This is why we offer flexible
financing options
to help you take care of your new HVAC purchase, so you can get back to taking care of what matters most to you.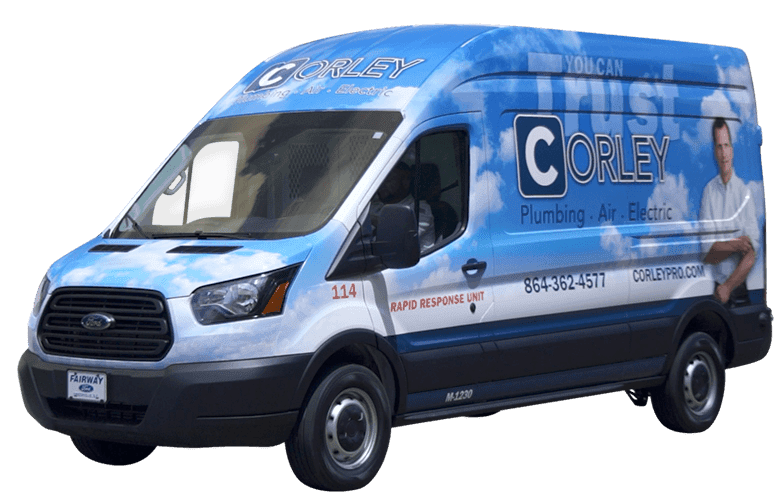 A well-maintained HVAC system can save you from having to invest in costly repairs down the road. Learn more about the
priority maintenance services
offered by Corley Plumbing Air Electric.