Professional Zone Control System Installation in Greenville, South Carolina
There are a lot of upgrades that can reduce the cost of heating and cooling bills. New insulation, upgrading heating and cooling systems for better efficiency, installing a programmable thermostat, and more can all improve efficiency and reduce energy costs. 
A zone control system is one method that has proven both affordable, easy to install, and effective. A zone control system allows you to divide your home into different zones; each has its own thermostat and can be monitored and maintained separately from the rest of your home. This allows you to save energy and money by reducing conditioning to unused spaces in your home.
Call Corley Pro to learn more about how installing a zone control system in your Greenville, Carolina, home can benefit you.
The Benefits of a Zone Control System
Here are a few good reasons why a zone control system is an excellent fit for your home:
Save Money:

Zone control systems can save you money while being a relatively inexpensive upgrade.

Create Zones:

By breaking your home into distinct zones, you make it possible to heat or cool only the parts of your home that you occupy most. With a central air system, the entire house gets heated or cooled from every vent. A great example of savings is turning off the heat to all the upstairs zones over the winter. The heat from downstairs will rise and create a more balanced equilibrium.

Comfortable Luxury:

The ability to turn off the heat in the kitchen when baking is fantastic. You can separate active and inactive spaces, so places where people move around can be cooler than places where people sit around, like reading or watching TV. Zones are also pleasant for those who are extra sensitive to hot or cold and want to control the temperature in their zone.
Professional Zone Control System Installation
If you decide that a zone control system will be a good upgrade for your home, the installation process is relatively simple. 
Your air handler will require a few minor upgrades, and thermostat controls will need to be installed in the different zones. The setup of your current ductwork system will determine zones. The ductwork can be adjusted to match your preferred zones.
Corley Pro can install zone control systems for most homes and offices in a single day, and your energy savings will offset the cost within a year or two. If you are ready to learn more about zone control systems and how they can save you money, call Corley Pro today! Our technicians are ready to discuss the benefits of installing a zone control system in your Greenville area Home.
$99 Toilet Unclog with Free Camera Inspection
*Exclusions may apply. Cannot be combined with other offers. Call for details.

Founded in 1986, Corley has been proven reliable, efficient, and skilled when it comes to solving all your plumbing, HVAC and electrical needs.

Corley helps you solve your problems today by providing friendly, knowledgeable technicians, state-of-the-art equipment, and old-fashioned, honest service.

We provide up-front pricing, so you'll never have to guess how much your repair is going to cost. We will go over your options so you can make the best choice for your home.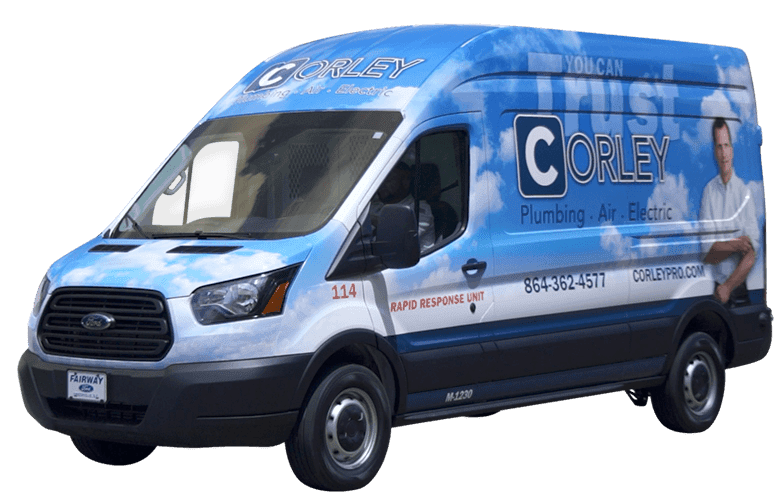 Financing Options Available
At Corley, we understand how important a functioning HVAC system is for your home. This is why we offer flexible
financing options
to help you take care of your new HVAC purchase, so you can get back to taking care of what matters most to you.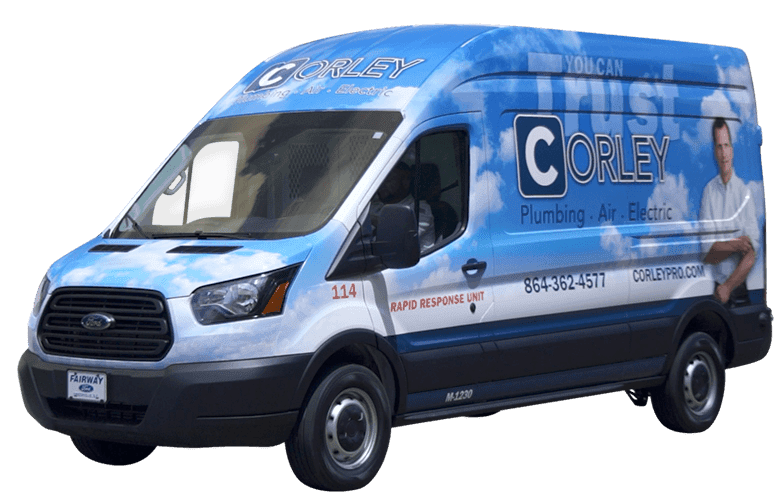 A well-maintained HVAC system can save you from having to invest in costly repairs down the road. Learn more about the
priority maintenance services
offered by Corley Plumbing Air Electric.