Professional Duct Repair, Replacement, & Sealing in Greenville, South Carolina
Your home's ductwork gets the cool air from your air conditioner to various rooms in your house. Vast quantities of air move through it every year. If your ductwork is poorly installed, old, or leaking, it loses efficiency. No matter the SEER rating on your AC, if half the cool air leaks out of your ducts before it ever gets to your rooms, you'll experience a drop in efficiency. 
Energystar.gov estimates that a typical home loses about 20 to 30 percent of the air that moves through the duct system due to leaks, holes, and poorly connected ducts. To solve this problem and save energy, contact Corley Pro for duct repair, replacement, and sealing in Greenville, South Carolina. We'll get your air ducts in shape and working like new fast!
The earlier you notice a problem, the sooner it can be fixed and the more efficient your home systems will be. Leaky ducts will make your air conditioner or furnace work harder, slowly decreasing service lifespans. 
Signs of problems in the ductwork:
Sudden inability to keep your home comfortable. 

Noticable uneven heating or cooling in various floors or rooms compared to previously. 

Noticeable reduction in airflow. 

Noticeable energy bill increases. 

Musty smells from the vents due to stale air from walls or crawlspaces.

Odd noises coming from the ducts, such as rattling or pinging sounds.
Once a technician rules out problems with your HVAC components like your AC, heater, or air handler, the last culprit is your ductwork. 
Much of the time, leaks in the ductwork are not detectable to homeowners. Even a small problem in your ductwork can result in massive energy inefficiency.
Luckily there is special equipment that will detect if there is a leak in the ductwork or not. Our duct testing tools and services will find any problems in the ductwork and allow us to fix the problem. 
Repairs to your ductwork will vastly improve your entire system's efficiency, reduce operation costs, and reduce how hard moving components have to work to heat or cool your home. Duct tape isn't going to cut it, though, as, despite the name, it isn't actually designed to use on ducts. It requires experts with the proper equipment and tools to restore the ductwork's airtightness properly. Call Corley for duct repair in Greenville, South Carolina. 
Duct Replacement and Installation
The majority of problems in ductwork can be fixed with routine repairs, but occasionally there will be situations in which replacement is the most cost-effective solution. Replacement is recommended when the existing ductwork is different from the right size for a new HVAC system or is old and rusted through in many places. It's probably that whichever contractor installed it initially didn't size it correctly for your home, resulting in inefficient heating and cooling. 
Greenville and Upstate South Carolina residents should rely on a trusted, experienced provider of duct services. Corley can replace and install any ductwork system in Greenville or Upstate South Carolina. If we find that you will benefit from duct sealing, you can trust that we will get the job done to your complete satisfaction.
*Exclusions may apply. Cannot be combined with other offers. Call for details.

Founded in 1986, Corley has been proven reliable, efficient, and skilled when it comes to solving all your plumbing, HVAC and electrical needs.

Corley helps you solve your problems today by providing friendly, knowledgeable technicians, state-of-the-art equipment, and old-fashioned, honest service.

We provide up-front pricing, so you'll never have to guess how much your repair is going to cost. We will go over your options so you can make the best choice for your home.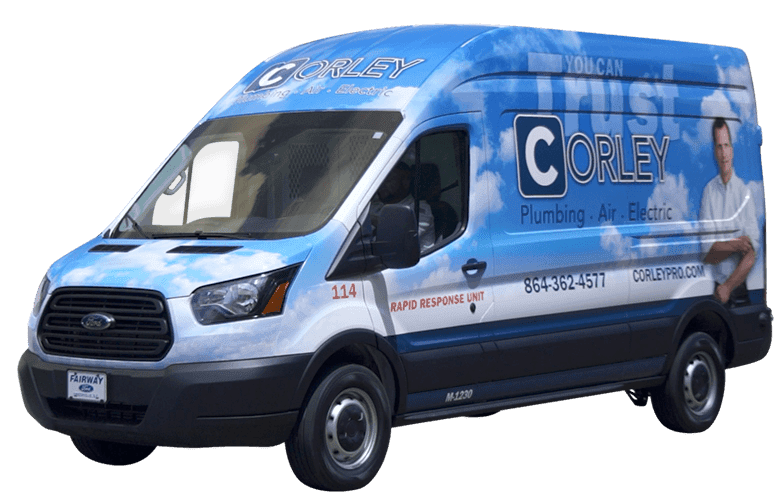 Financing Options Available
At Corley, we understand how important a functioning HVAC system is for your home. This is why we offer flexible
financing options
to help you take care of your new HVAC purchase, so you can get back to taking care of what matters most to you.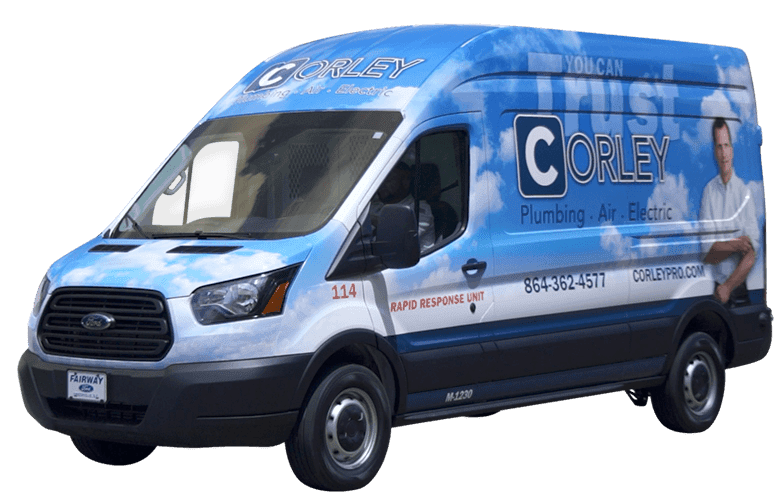 A well-maintained HVAC system can save you from having to invest in costly repairs down the road. Learn more about the
priority maintenance services
offered by Corley Plumbing Air Electric.