Enhance Your Home's Efficiency with a Hybrid Water Heater
Let's dive into an exciting and increasingly popular option for homeowners aiming to boost energy efficiency and save money – the hybrid water heater.
The Problem: High Energy Costs for Heating Water
Are you aware that, as per energy.gov, the typical household equipped with an electric water heater allocates approximately 25% of their electricity bill to heating water? This represents a substantial share of your energy costs devoted to a single domestic function. Furthermore, the average tank-style water heater incurs annual operating expenses ranging from $400.00 to $600.00. Surprisingly, this amount surpasses the combined electricity costs of running an average refrigerator, dishwasher, washing machine, and dryer. Given this substantial energy consumption, many homeowners are now exploring more efficient alternatives. 
The Solution: Hybrid Water Heaters
Introducing the hybrid water heater, also known as a heat pump water heater. These innovative appliances have been gaining immense popularity, and for good reason. Homeowners are increasingly looking for ways to be more energy-efficient and make smart investments when it comes to home upgrades. Your water heater represents an excellent opportunity to do just that.
The Pros of Hybrid Water Heaters
Substantial Energy Savings

: A hybrid water heater can save you up to $4700.00 in energy costs during the first ten years. These appliances are incredibly energy-efficient, leading to significant savings on your utility bills.

 

Extended Lifespan

: Hybrid water heaters can last up to twice as long as traditional tank-style water heaters. With proper maintenance, these units are built to endure, ensuring a longer return on your investment.

 

Enhanced Warranty:

With most hybrid water heaters, you'll receive an extensive manufacturer's warranty. This warranty typically covers the tank for a decade, the parts for ten years, and labor for one year. This comprehensive warranty not only offers you peace of mind but also provides valuable financial protection.

Smart App Connectivity

: The Rheem hybrid water heater boasts smart technology with its Econet app. This feature enables you to effortlessly adjust the temperature, track energy usage, and set operating modes directly from your smartphone.

 

Leakguard Technology

: Rheem's Leakguard technology adds another layer of protection. It detects any water leakage from the tank, automatically shuts down the water heater, and sends you an alert through your smartphone. This feature can prevent substantial water damage, limiting leaks to just 20 oz.

 
Ready to explore the benefits of a hybrid water heater? Contact us or schedule a free estimate online today!
10% off Full System Install (18 SEER or HIgher)
*Exclusions may apply. Cannot be combined with other offers. Call for details.

Founded in 1986, Corley has been proven reliable, efficient, and skilled when it comes to solving all your plumbing, HVAC and electrical needs.

Corley helps you solve your problems today by providing friendly, knowledgeable technicians, state-of-the-art equipment, and old-fashioned, honest service.

We provide up-front pricing, so you'll never have to guess how much your repair is going to cost. We will go over your options so you can make the best choice for your home.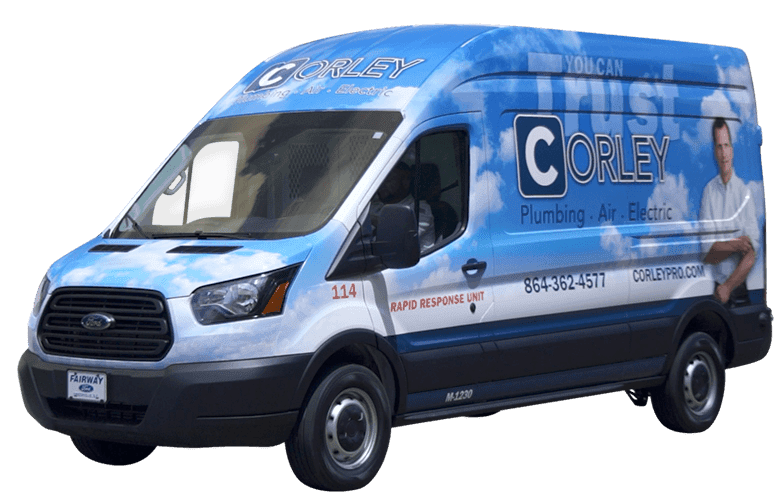 Financing Options Available
At Corley, we understand how important a functioning HVAC system is for your home. This is why we offer flexible
financing options
to help you take care of your new HVAC purchase, so you can get back to taking care of what matters most to you.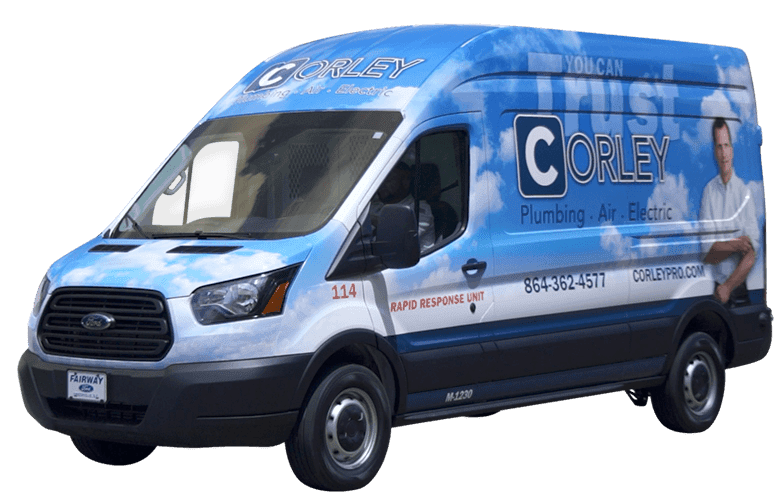 A well-maintained HVAC system can save you from having to invest in costly repairs down the road. Learn more about the
priority maintenance services
offered by Corley Plumbing Air Electric.