Air Conditioning Repair Services In Greenville, South Carolina
Having a working air conditioning unit is essential during South Carolina's hot summer months. When your AC unit breaks down, you need a reliable technician to handle the job in a timely manner. That's why Corley Pro offers air conditioner repair services for all Greenville area residents.
Trusted AC Repair Services
Over time, your cooling system may occasionally require repair. Our expert technicians at Corley Pro can inspect your system and recommend the right cooling solutions or products for your home. Here are some of the most common repairs we perform:
Residential air conditioning repairs
Thermostat repairs
Air filter replacements
Refrigerant leak repairs
Compressor repairs
If you notice reduced cooling capacity, uneven temperatures, or other issues with your home's air conditioner, contact us to schedule AC repair in the Greenville area. We'll restore your system's functionality in no time!
24-hour Emergency AC Repair
Don't let a sudden AC breakdown ruin your routine or take away from the comfort of your home. Corley Pro has your back with our 24-hour emergency AC repair in the Greenville area. In the event that disaster strikes, our team is ready to assist you and get your AC unit functioning properly again.
Living without a working air conditioner in the heat of summer can be unbearable and even dangerous for certain individuals, such as the elderly or those with medical conditions. That's why we prioritize emergency air conditioning repairs and strive to respond to your call as quickly as possible.
Our lightning-fast response time and top-notch expertise ensure you'll never be caught in an AC emergency without prompt assistance. Leave the stress and hassle of emergency repairs to us. Call us anytime for emergency air conditioning repairs and trust our team of experts to get the job done quickly.
Rely on Us for AC Repair and Maintenance
A broken AC unit is never convenient. With Corley Pro's AC repair and maintenance services, we'll repair your unit promptly so you can enjoy the cool, refreshing air that comes with a fully-functioning air conditioning system.
We are dedicated to providing you with the best service possible. If you need AC repair services in Greenville, South Carolina, and its surround areas, contact Corley Pro today and experience the serenity and security that comes along with working with the best in the business.
10% off Full System Install (18 SEER or HIgher)
*Exclusions may apply. Cannot be combined with other offers. Call for details.

Founded in 1986, Corley has been proven reliable, efficient, and skilled when it comes to solving all your plumbing, HVAC and electrical needs.

Corley helps you solve your problems today by providing friendly, knowledgeable technicians, state-of-the-art equipment, and old-fashioned, honest service.

We provide up-front pricing, so you'll never have to guess how much your repair is going to cost. We will go over your options so you can make the best choice for your home.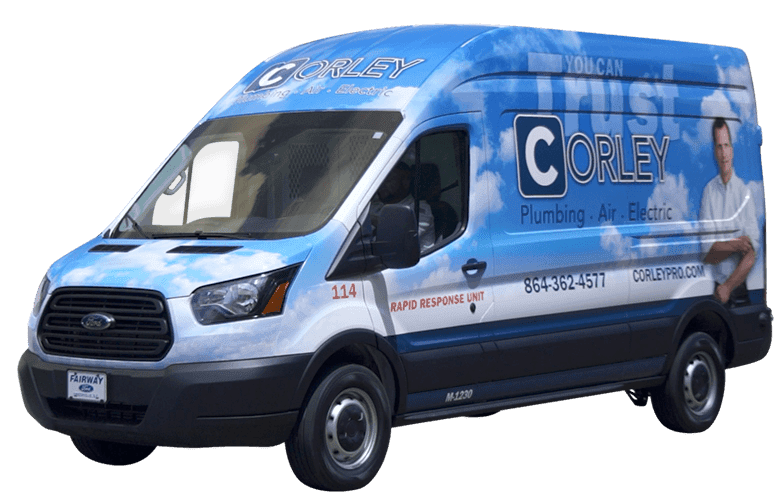 Financing Options Available
At Corley, we understand how important a functioning HVAC system is for your home. This is why we offer flexible
financing options
to help you take care of your new HVAC purchase, so you can get back to taking care of what matters most to you.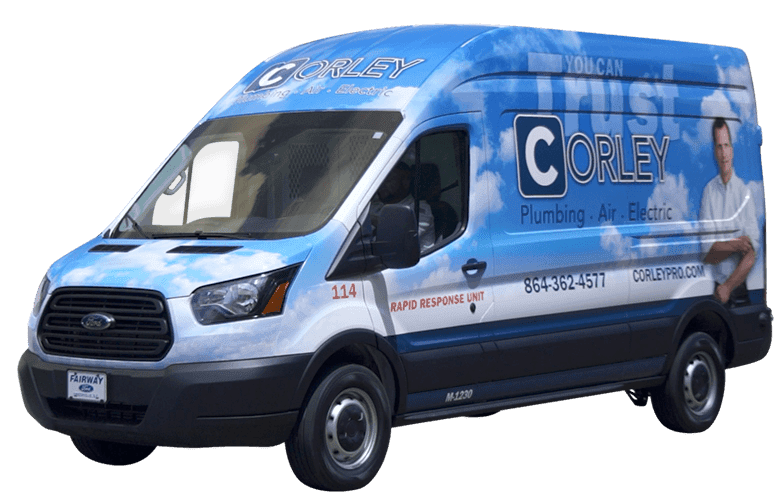 A well-maintained HVAC system can save you from having to invest in costly repairs down the road. Learn more about the
priority maintenance services
offered by Corley Plumbing Air Electric.