A water heater is something not many homeowners think about until it's not working anymore. Nothing reminds you of the importance of a hot water heater like an icy cold shower in the morning.
At Corley Pro, we never want you to stress about hot water. We offer professional and affordable water heater services in Greenville and the surrounding area.
Signs Your Water Heater Needs Repaired
Water heaters are designed to last at least ten years. However, since they are constantly running, there is the risk of your unit breaking down at some point.
Here are the warning signs that it might be time to call Corley's Greenville water heater repair team:
Water leaking from the unit
Reduced water flow
Discolored water
Strange, rotten egg smell from your unit or drains
Noticeable rust or corrosion on the tank
Odd noises coming from the water heater
When Should I Replace My Water Heater?
Over time, water heaters become less efficient. This is partly due to the tiny amounts of minerals dissolved in water, which build up over time. The buildup creates a barrier along the inner walls of the tank and increases how much energy is required to heat the tank and water.
With regular maintenance and cleaning, water heaters can last between eight to 12 years. Making the decision to replace your unit is a big one, but it is something you should consider if you're experiencing the following:
Constant repairs (more than once a year)
A rusting tank
Dangerous leaks
A unit that's more than 15 years old
Call Corley to learn more about our water heater replacement services in Greenville and how we can help you install a new unit today.
Residential Water Heater Services in Greenville
At Corley, we're your go-to for all your water heater needs. From emergency repairs to ongoing, preventive maintenance, you can count on us.
Water Heater Repair
Our team is made up of certified and highly trained plumbers who are ready to tackle any problem you might be having with your water heater.
The repair could be as simple as your tank needing to be descaled, or more complex, such as an issue with the electrical heating elements. Either way, you'll want to consult a professional plumber to assess, diagnose, and fix the problem quickly.
We also offer emergency water heater repair services in Greenville and the surrounding area. No matter the time or day, we have your back.
Water Heater Replacement
Even if your water heater is still functioning adequately, it might be time to consider an upgrade to a newer, high-efficiency tank or tankless water heater.
This is a job our Greenville water heater replacement team can help with. The first step will be selecting the right water heater for you based on your family's needs. Our technicians will take into consideration your water use habits, home size, and budget before making their professional recommendations.
Then, we'll be there every step of the way to get the new hot water heater installed in your home.
Water Heater Maintenance
While there is some plumbing maintenance you can do on your own, a water heater is a different ballgame. It is a major investment, and it's best to leave maintenance in the hands of a professional.
At Corley Pro, our water heater maintenance services in Greenville will help you get the most use out of your system. We recommend an annual check and tune-up to keep your system working longer and more efficiently.
Call today to schedule your maintenance visit.
If you're looking for professional and affordable water heater services in Greenville or the surrounding area, we have you covered. Contact Corley Pro at (864) 659-2996 or schedule an appointment online today.
$99 Toilet Unclog with Free Camera Inspection
*Exclusions may apply. Cannot be combined with other offers. Call for details.

Founded in 1986, Corley has been proven reliable, efficient, and skilled when it comes to solving all your plumbing, HVAC and electrical needs.

Corley helps you solve your problems today by providing friendly, knowledgeable technicians, state-of-the-art equipment, and old-fashioned, honest service.

We provide up-front pricing, so you'll never have to guess how much your repair is going to cost. We will go over your options so you can make the best choice for your home.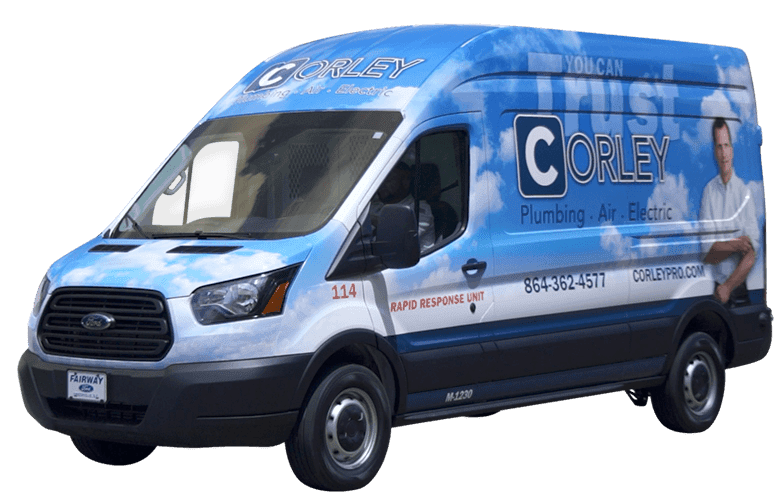 Financing Options Available
At Corley, we understand how important a functioning HVAC system is for your home. This is why we offer flexible
financing options
to help you take care of your new HVAC purchase, so you can get back to taking care of what matters most to you.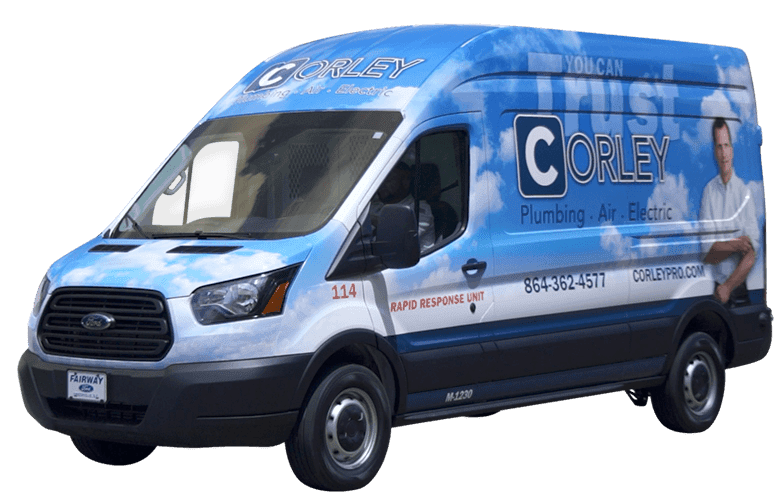 A well-maintained HVAC system can save you from having to invest in costly repairs down the road. Learn more about the
priority maintenance services
offered by Corley Plumbing Air Electric.