Thermostat Services in Greenville and Upstate South Carolina
The thermostat is an important part of the operation of your HVAC system. It ensures that your air conditioning and heating systems are keeping your family comfortable, which is why it's important that you have the right thermostat installed and maintained by a professional.
If you're looking for reliable thermostat services in Greenville and the surrounding area, look no further than Corley. Our service professionals will work closely with you to ensure your home always has ample, steady heating and cooling.
It can be tricky to choose the right thermostat for your home if you aren't sure what to look for in a quality system. With Corley, a member of our Greenville thermostat installation team will go over your options and work with you to decide the best solution for your home.
Our expert technicians have experience installing a variety of thermostats, including:  
Manual Thermostats:

This is one of the most basic types available. A manual thermostat offers a system for homeowners who want manual control over the temperature in their homes without all the extras.

Programmable Thermostats:

With a state-of-the-art programmable thermostat, you can pre-schedule the temperature inside your home throughout the day to optimize your comfort when you're using the space (and save money when you aren't).

Smart Thermostats:

By using a smartphone app, you are able to conveniently control your indoor comfort from anywhere. This top-of-the-line option can learn your schedule and control the temperatures in your home for optimal efficiency. 
Regardless of what type of thermostat you choose, we offer thermostat installation services that Greenville residents can trust.
Knowing When It's Time for a New Thermostat
With modern technology, there's never been a better time to update your home's HVAC system, including the thermostat. Older, mechanical thermostats are only accurate within a few degrees of the temperature setting you choose. Newer, digital thermostats, however, can be made accurate within 0.5 degrees depending on the HVAC system and air handler you have installed.
Contact a member of our Greenville thermostat team to discuss your options and determine if now is the right time for you to update. 
If your thermostats are significantly inaccurate, malfunctioning, or appear to not be working at all, a member of our Greenville thermostat repair team is available to assess your unit and make recommendations about repairs or replacement. 
To learn more about our fast, reliable, and professional thermostat services in Greenville and upstate South Carolina, call Corley Pros at (864) 659-2996 or schedule an appointment online today.
*Exclusions may apply. Cannot be combined with other offers. Call for details.

Founded in 1986, Corley has been proven reliable, efficient, and skilled when it comes to solving all your plumbing, HVAC and electrical needs.

Corley helps you solve your problems today by providing friendly, knowledgeable technicians, state-of-the-art equipment, and old-fashioned, honest service.

We provide up-front pricing, so you'll never have to guess how much your repair is going to cost. We will go over your options so you can make the best choice for your home.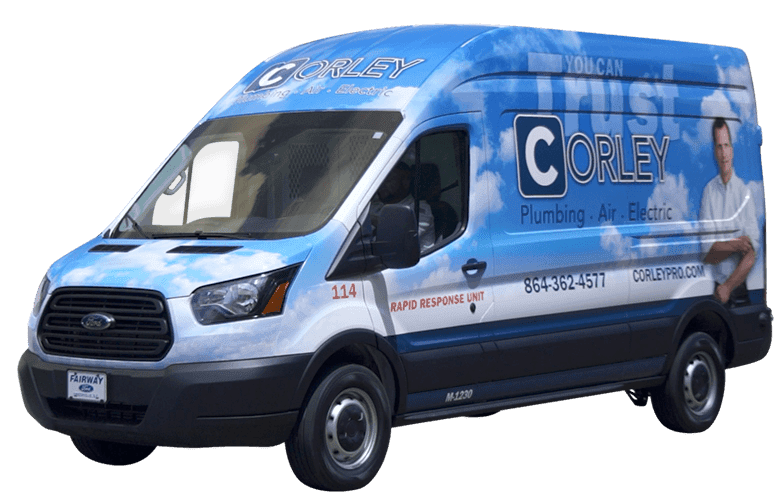 Financing Options Available
At Corley, we understand how important a functioning HVAC system is for your home. This is why we offer flexible
financing options
to help you take care of your new HVAC purchase, so you can get back to taking care of what matters most to you.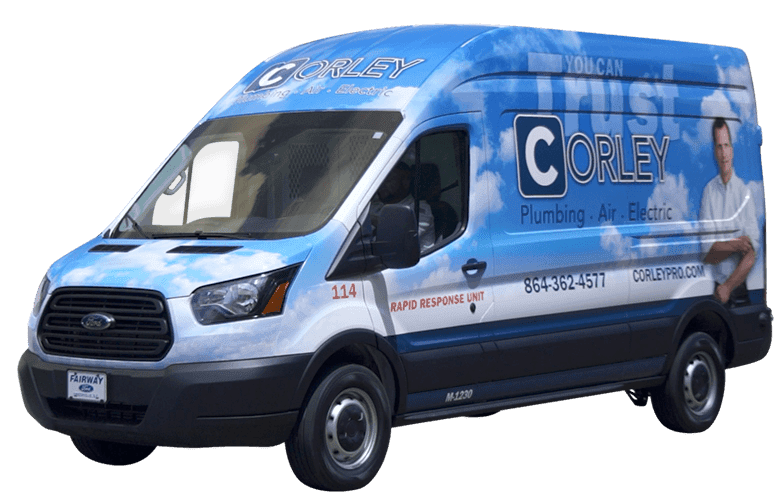 A well-maintained HVAC system can save you from having to invest in costly repairs down the road. Learn more about the
priority maintenance services
offered by Corley Plumbing Air Electric.