Drain Cleaning Services in Greenville and Upstate South Carolina
In order for your overall plumbing system to function properly, your drains need to be clean and clear. Clogs in the system can lead to major issues that require costly repairs. That's why it's important to call in a professional plumber before a little clog gets out of hand.
With the expert and friendly plumbers at Corley Pro, we'll have your sinks, toilets, and drains clean in no time with our exceptional drain cleaning services in Greenville and the surrounding area.
Warning Signs of a Clogged Drain
A blocked pipe is more than just an inconvenience. It is also a potential health risk to you and your family. If water is unable to flow out, then it will build up and make it easier for bacteria to grow.
Keep an eye out for these warning signs that there's a clog in your drain, and if you notice anything, give one of our Greenville drain cleaning specialists a call:
Water draining slowly
Drain overflowing
Odd sounds coming from the pipes
Potent sewage smell
Two or more fixtures clogged at the same time
These clogs can be caused by a range of things from too much toilet paper to grease buildup overtime. No matter the cause, you put your entire plumbing system at risk if you don't address the problem right away. Corley Pro can help with our drain cleaning services in Greenville and the surrounding area.
Residential Drain Cleaning
For the majority of clogs, store bought drain cleaner is no match. It might work for small clogs, but bigger and more persistent issues require an expert.
Our professional equipment and extensive experience allows us to clear your drain pipes without causing any damage to your system. Some of the tools we use include:
Drain Snake
Rooter
Hydro Jetting Equipment.
If the issue involves multiple fixtures throughout your house, it could indicate a bigger problem that requires a more serious approach, such as hydro jetting. A member of our Grenville drain cleaning team will work with you to determine the right course of action based on the placement and severity of the clog.
For professional and reliable drain cleaning services in Greenville and the surrounding area, look no further than Corley Pro. Get in touch with us today at (864) 659-2996, or schedule an appointment online.
$1500 off Whole Home Generator plus 1 Year Service Partner Membership
*Exclusions may apply. Cannot be combined with other offers. Call for details.

Founded in 1986, Corley has been proven reliable, efficient, and skilled when it comes to solving all your plumbing, HVAC and electrical needs.

Corley helps you solve your problems today by providing friendly, knowledgeable technicians, state-of-the-art equipment, and old-fashioned, honest service.

We provide up-front pricing, so you'll never have to guess how much your repair is going to cost. We will go over your options so you can make the best choice for your home.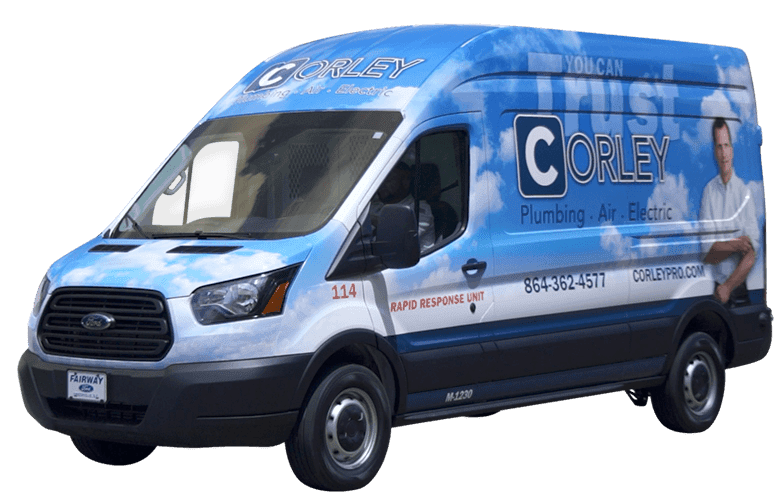 Financing Options Available
At Corley, we understand how important a functioning HVAC system is for your home. This is why we offer flexible
financing options
to help you take care of your new HVAC purchase, so you can get back to taking care of what matters most to you.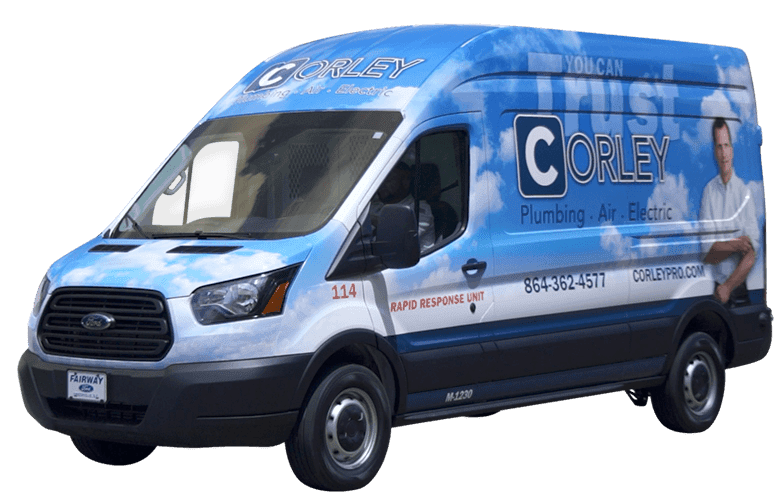 A well-maintained HVAC system can save you from having to invest in costly repairs down the road. Learn more about the
priority maintenance services
offered by Corley Plumbing Air Electric.