Plumbing Services in Greenville and Upstate South Carolina
A properly working plumbing system is necessary for you to go about your day-to-day life comfortably. That is why it is so important to have your plumbing installed, maintained, and repaired by professionals.
Corley is your go-to for high quality plumbing services in Greenville and the surrounding area. Our team is made up of certified plumbing specialists who are equipped to handle any residential plumbing issues promptly and effectively.
Signs You Need to Call a Plumber
Your plumbing system involves a lot more than what you're able to see. In addition to faucets and drains, there is an extensive system of pipes to keep water flowing safely. If there's an issue with any part of the system, it's best to address it quickly before a little problem becomes a big one. 
Since our Greenville plumbers have seen it all, they recommend calling for an expert opinion if you're experiencing any of the following:
Slow drains

Water pressure issues 

Leaky faucets & fixtures

Seeing water where it shouldn't be
Residential Plumbing Services in Greenville and the Surrounding Area
At Corley, we provide a full scope of plumbing services to Greenville homeowners, as well as homeowners throughout upstate South Carolina. There is no project too big or too small for our team to tackle in order to ensure your pipes are working effectively.  
Plumbing Installation:

A properly working plumbing system starts with

precise and professional installation

. Corley's plumbing professionals have the tools and skills needed to ensure all installations are handled flawlessly. We're never satisfied with our work until you are.

Plumbing Repair:

Whether it's a clogged drain or a busted pipe, plumbing problems are some of the most stressful issues homeowners deal with. A small leak can quickly cause severe water damage, which is why you want a repair team who is ready to handle anything. If you have an issue with your plumbing system, our certified technicians are here to provide swift

plumbing repairs

to get your pipes back in working order.

Plumbing Inspection and Maintenance: To prevent costly future repairs (flood damage, mold, etc.), we recommend keeping an eye on any potential problems with regular inspection and maintenance. Our Greenville plumbing inspection team is trained in leak detection and repair, sewer line inspection, and more. Corley provides the preventative care you need to be confident in your home plumbing.
Emergency Plumbing Services in Greenville and the Surrounding Area
Unfortunately, plumbing problems occur at all hours. Corley's professional and knowledgeable team is equipped to tackle any issue no matter the time of day. To do this, we offer 24-hour emergency plumbing services in Greenville and the surrounding area. Day or night, you can count on us to answer your call. 
At Corley, we provide the fast, reliable, and cost-effective plumbing services that Greenville residents are looking for. Give us a call at (864) 659-2996 or schedule an appointment online today. 
Bundle HVAC System Purchase with Free UV LIght ($595 Value)
*Exclusions may apply. Cannot be combined with other offers. Call for details.

Founded in 1986, Corley has been proven reliable, efficient, and skilled when it comes to solving all your plumbing, HVAC and electrical needs.

Corley helps you solve your problems today by providing friendly, knowledgeable technicians, state-of-the-art equipment, and old-fashioned, honest service.

We provide up-front pricing, so you'll never have to guess how much your repair is going to cost. We will go over your options so you can make the best choice for your home.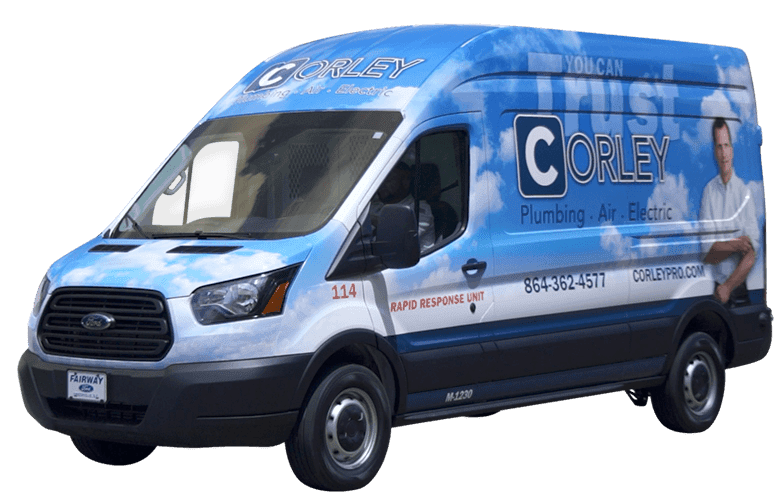 Financing Options Available
At Corley, we understand how important a functioning HVAC system is for your home. This is why we offer flexible
financing options
to help you take care of your new HVAC purchase, so you can get back to taking care of what matters most to you.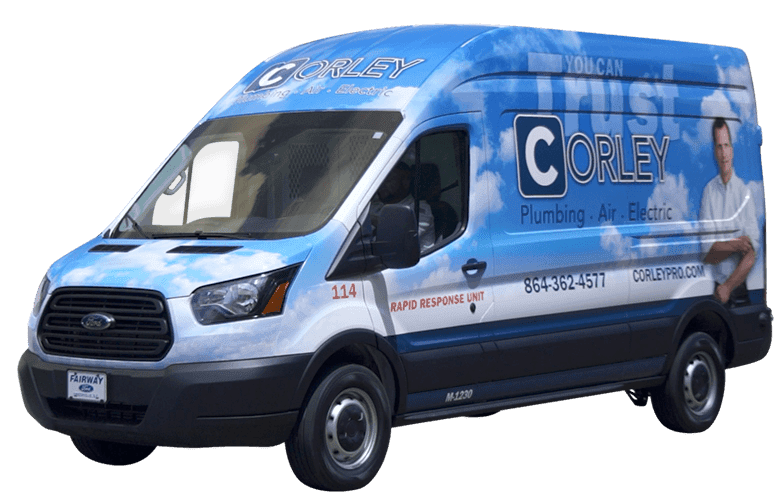 A well-maintained HVAC system can save you from having to invest in costly repairs down the road. Learn more about the
priority maintenance services
offered by Corley Plumbing Air Electric.