Ductless Heating & Air Conditioning in Greenville, South Carolina
The conventional standard for air conditioning is central air conditioning with the help of ductwork and ventilation systems. However, central air is one of many options. Another great alternative is ductless heating and cooling mini-split systems.
These systems do not require ductwork throughout the attic, basement, or crawl space. Some homes aren't designed with ductwork in mind and do not have adequate space or planning to install ductwork. Other homeowners may decide that ductless heating and cooling is more appropriate for them for various reasons.
If you are interested in installing a ductless mini-split heating and air conditioning system in Greenville, South Carolina, trust Corley Pro for your installation. Our professional technicians are well-trained, prompt, and fast. We can typically install a ductless heating and cooling system within a day.
Benefits of Ductless Heating and Cooling Systems
Besides not requiring ductwork, there are two other primary benefits of ductless heating and cooling. With new technology, ductless heating and cooling systems have become highly efficient. Modern standard central air conditioning units have a SEER efficiency rating of 14 to 23, which is significantly more efficient than older AC units which have been known to rate in the six to ten SEER range. Ductless heating and cooling systems are generally even more efficient than central air units, and can achieve up to an impressive 30 SEER rating.
The next significant advantage of ductless heating and air conditioning systems is that they have a zone control system built in. Each unit can be set to different temperatures, allowing you to customize the comfort level of your home. Zones that aren't used much can run their unit less often, saving on energy costs. If one family member prefers it cooler than another, they can set a zone to be a lower temperature than the rest of the house.
Ductless Heating & Cooling Installation
Installing a ductless heating and air conditioning mini-split system is less invasive than installing ductwork. During the installation process, a professional HVAC technician must evaluate your home, do a load calculation, and determine how many and where to situate the indoor units. 
Once that's determined, the indoor units are installed, along with an outdoor unit. Refrigerant and drainage lines are installed, which connect to the outdoor unit and drain the humidity that is pulled out of the air. Typically, each external unit can support up to four indoor units. 
A ductless mini-split system can switch between heating and cooling, so a single system works for all seasons. One thing that ductless mini-split systems lack is air distribution; fortunately, ceiling fans are a great solution in distributing air and increasing air flow. 
Corley Pro has the training, experience, and skill to complete your ductless mini-split heating and cooling installation professionally and correctly. When you hire Corley Pro for a job, you'll be satisfied with our work. Contact us today to set up an appointment.
Signs Your Ductless Heating and Cooling System Needs Maintenance and Repairs
Here are some signs that your ductless heating and cooling system may need repairs:
Low Heating or Cooling Output:

If your ductless system isn't putting out the cool air or heat you expect, it needs some work. Diminished output is a sign that your system needs repairs. 

Water Leaks:

In cooling mode, the indoor units collect moisture from the air and reduce the humidity. Drainage lines move the moisture out and away from the unit. If the line gets clogged with dirt, mold, and algae, water can get backed up into the system, which can cause property damage and mildew growth. 

Inaccurate Thermostats:

If your thermostat says it's one temperature, but is incorrect, then it needs calibration. It can also be an electrical problem. 

Ice:

Sometimes condensation collects on dirty evaporator coils, which can freeze over. The icy coil can't absorb heat from the indoor air, which reduces the cooling output. 

Higher Energy Bills:

If your system is working harder and drawing more power than usual to heat or cool your home, you may experience unexpected spikes in your electric bills. This can be caused by airflow obstructions and other inefficiencies.

Strange Noises:

Grinding from the motor fan, clanging, or other banging noises indicate something is wrong. 
If you see any of these signs, it's time to get professional repairs. Call Corley Pro for expert ductless mini-split repairs and maintenance in Greenville, South Carolina.
$1500 off Whole Home Generator plus 1 Year Service Partner Membership
*Exclusions may apply. Cannot be combined with other offers. Call for details.

Founded in 1986, Corley has been proven reliable, efficient, and skilled when it comes to solving all your plumbing, HVAC and electrical needs.

Corley helps you solve your problems today by providing friendly, knowledgeable technicians, state-of-the-art equipment, and old-fashioned, honest service.

We provide up-front pricing, so you'll never have to guess how much your repair is going to cost. We will go over your options so you can make the best choice for your home.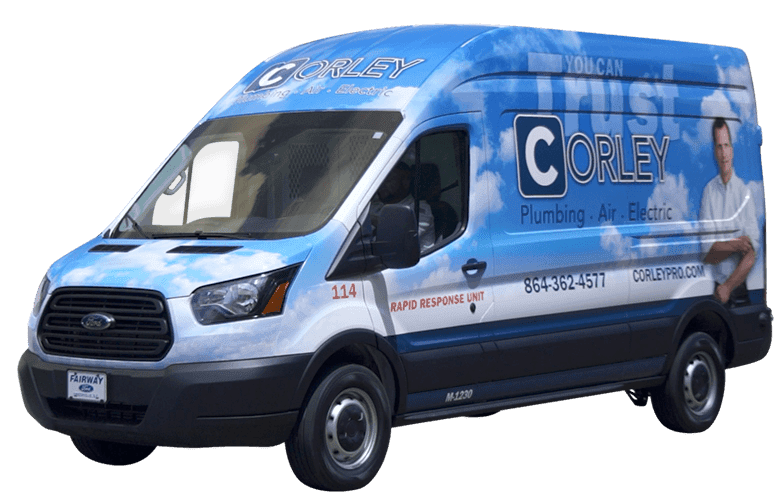 Financing Options Available
At Corley, we understand how important a functioning HVAC system is for your home. This is why we offer flexible
financing options
to help you take care of your new HVAC purchase, so you can get back to taking care of what matters most to you.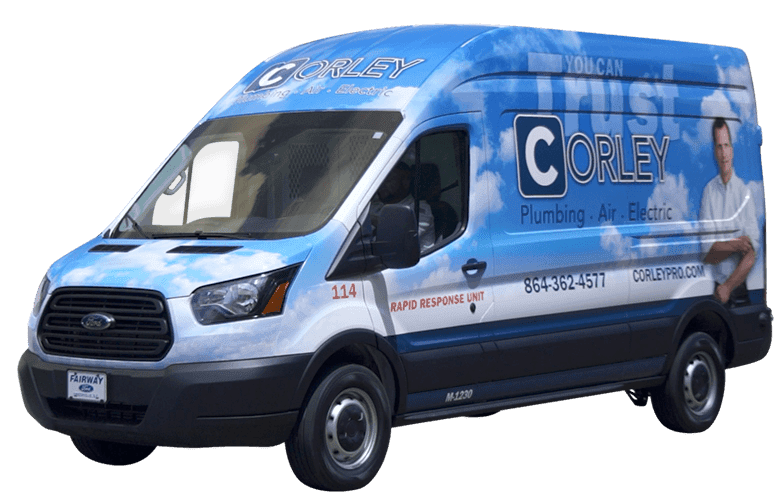 A well-maintained HVAC system can save you from having to invest in costly repairs down the road. Learn more about the
priority maintenance services
offered by Corley Plumbing Air Electric.