Greenville Garbage Disposal Repair Service
Garbage disposals are great for cutting down on waste, keeping a kitchen area clean, and minimizing cleanup after dinners and family gatherings. But great as they may be, they aren't perfect, and from time to time they might need professional servicing. Are you looking for certified plumbing specialists to meet your garbage disposal repair and maintenance needs in Greenville? If so, you've come to the right place!
The plumbing team at Corley Plumbing Air Electric has been meeting the plumbing needs of clients in the Greenville area for over three decades. We proudly offer top-class garbage disposal services to all customers in Greenville and Upstate SC, so when you need services from a team that you can trust, contact us every time.
Dealing with a malfunctioning garbage disposal, or do you need garbage disposal troubleshooting services in the Greenville area? Contact Corley online now, or dial (864) 517-1251 to contact our emergency service team!
Emergency Plumbing Repair
Our team knows quite well that issues with garbage disposals never wait for a "good" time to crop up. A garbage disposal can go down at any time, any day, and that includes (and sometimes especially means) the holidays! That's why we have a trained and certified plumbing repair team on call and ready to help at all times. No matter the problem – or the time of day – we're here to help fix or replace your garbage disposal.
Dealing with a disposal emergency that you can't fix on your own? Call our phone number today at (864) 517-1251 for plumbing emergency services!
Corley's Garbage Disposal Repair Services
Disposals aren't the most complex plumbing appliance in your home. But that doesn't mean they don't have quite a few working parts. Each one of these units can encounter complications that may leave you without a working disposal, which can result in a stinky sink area or worse. You need experts who can act fast and decisively, accurately diagnosing the issue at hand and supplying a garbage disposal repair service that sets things right immediately. If your garbage disposal is beyond repairs, our professionals will provide your home with a new replacement to get your kitchen sink working as good as new again.
The team at Corley is the team to trust for garbage disposal services! We've offered plumbing and garbage disposal repair services to the Greenville area for many years. With the benefit of our equipment and experience on your side, you can be certain everything will be handled in a timely manner.
Reach out to our plumbing experts if you notice any of the following:
Metal-on-metal grinding or loud noises. Over time, garbage disposals can begin to wear out, or mechanical parts may begin to loosen. This can lead to a loud and alarming grinding sound that, if left alone, can lead to the complete destruction of the unit itself.
The disposal fails to grind food waste effectively. Most commonly this will be an issue with the blades – either they will be dulled, bent, or misaligned. Our experts can diagnose this problem and fix it in no time.
The disposal is leaking. Plumbing leaks are one of the most potentially damaging issues a homeowner can wind up dealing with. If your disposal is leaking, call us right away! Our leak detection and repair experts can have the issue handled as swiftly as accuracy will allow.
The disposal is jammed. Jamming can happen when either the wrong kinds of food are placed in the disposal (fibrous vegetables, bones, coffee grounds) or if the blades are bent in a way that prevents operation.
Disposal refuses to engage when switched on. Though they're often lumped in with most plumbing appliances, disposals still use electricity. This means it's possible to encounter issues like loose connections or wire damage, which will require professional service.
What Shouldn't Go Down the Garbage Disposal
Here are some things to never put in your disposal if you want to keep it running smoothly:
Coffee grounds
Pasta
Bones
Oatmeal
Nuts
Onion skins
Eggshells
Potato peels
Paint
Don't throw any of these items down the drain, and keep your garbage disposal running clog-free.
Professional Garbage Disposal Repair in the Greenville Area
For over three decades, our team has helped home and business owners in the Greenville area get access to top-of-the-line plumbing service. When your disposal gives you trouble, just give us a call and we'll be there to handle things right away!
Contact us online today to schedule plumbing service, or call us at (864) 517-1251 to speak to a plumbing and disposal expert now!
Bundle HVAC System Purchase with Free UV LIght ($595 Value)
*Exclusions may apply. Cannot be combined with other offers. Call for details.

Founded in 1986, Corley has been proven reliable, efficient, and skilled when it comes to solving all your plumbing, HVAC and electrical needs.

Corley helps you solve your problems today by providing friendly, knowledgeable technicians, state-of-the-art equipment, and old-fashioned, honest service.

We provide up-front pricing, so you'll never have to guess how much your repair is going to cost. We will go over your options so you can make the best choice for your home.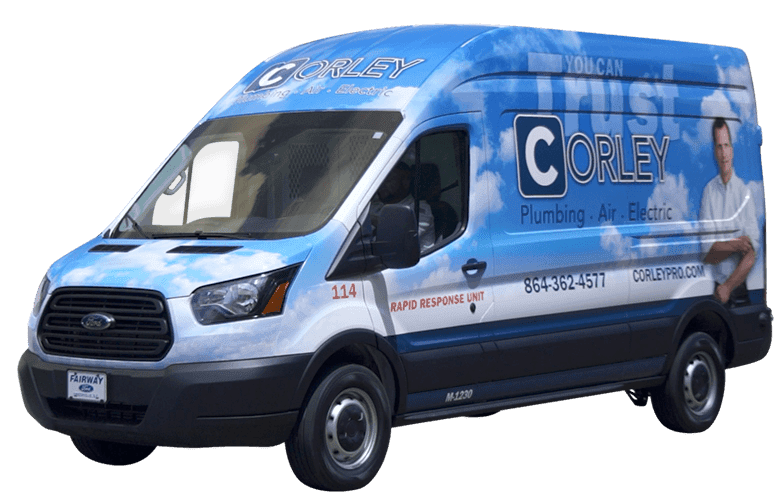 Financing Options Available
At Corley, we understand how important a functioning HVAC system is for your home. This is why we offer flexible
financing options
to help you take care of your new HVAC purchase, so you can get back to taking care of what matters most to you.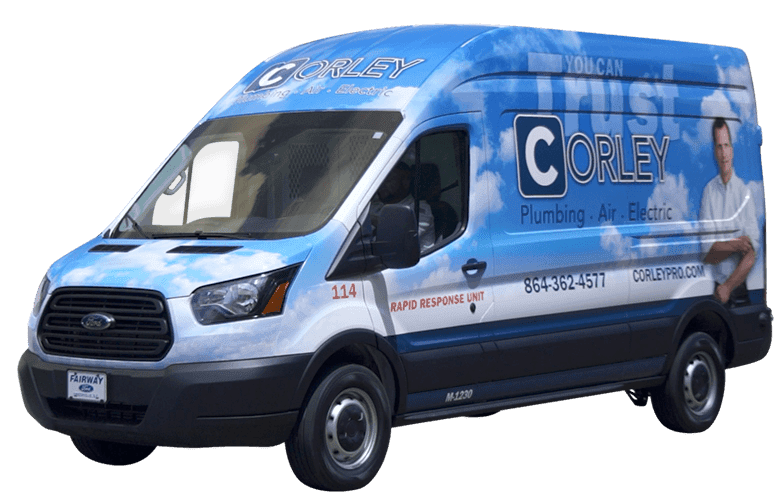 A well-maintained HVAC system can save you from having to invest in costly repairs down the road. Learn more about the
priority maintenance services
offered by Corley Plumbing Air Electric.