You use your faucets on a daily basis. Over time, these fixtures become worn down, resulting in deterioration and leaks. They can also become an eyesore in your kitchen or bathroom.
When it comes time to repair or replace plumbing fixtures, save yourself any stress by calling in the professionals at Corley Pro. We offer fast and reliable faucet replacement and repair services that Greenville residents can count on.
Faucet Repair Services
The most common issue our Greenville faucet repair team tackles is leaks. It isn't an issue you want to ignore because it can end up costing you down the line. A faucet that drips three times per minute wastes more than 12 gallons of water per month, or almost 160 gallons of water a year! Small leaks can add up, so it's best to get them fixed as soon as possible.
Whether it's in your bathroom, kitchen, or another room, our plumbers can quickly assess the leak, find the cause, and conduct the necessary repairs. This helps you to conserve water and prevent any further damage to your plumbing fixtures.
Faucet Replacement Services
Just like the major appliances in your home, smaller fixtures like your faucets will eventually need to be replaced as well. With our faucet replacement services in Greenville, you have the option of choosing from all the top brands, including Kohler, Moen, Delta, and more.
With our team of professional plumbers, the replacement process is a breeze:
Turn off the water supply to the faucet using the shut-off valve
Drain any remaining water in the pipes and remove the old faucet
Install the new faucet you have selected
Test the new fixture to make sure there are no leaks or other issues
Corley is here with our professional and affordable faucet replacement and repair services in Greenville or the surrounding area. Get in touch with us today at (864) 659-2996, or schedule an appointment online.
10% off Full System Install (18 SEER or HIgher)
*Exclusions may apply. Cannot be combined with other offers. Call for details.

Founded in 1986, Corley has been proven reliable, efficient, and skilled when it comes to solving all your plumbing, HVAC and electrical needs.

Corley helps you solve your problems today by providing friendly, knowledgeable technicians, state-of-the-art equipment, and old-fashioned, honest service.

We provide up-front pricing, so you'll never have to guess how much your repair is going to cost. We will go over your options so you can make the best choice for your home.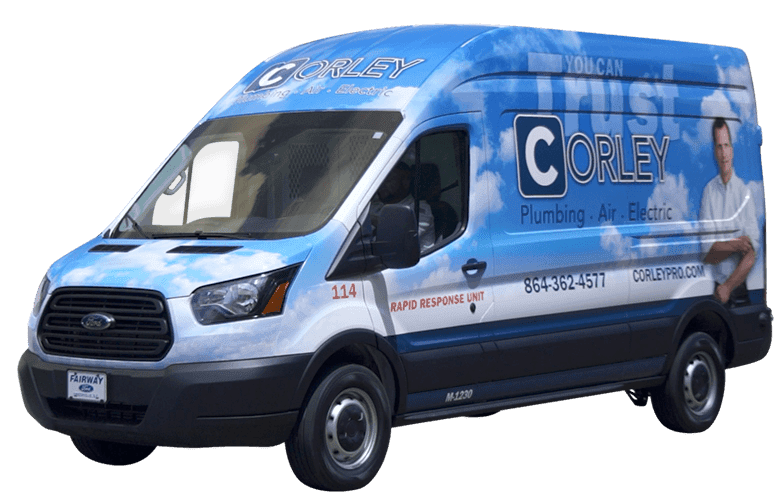 Financing Options Available
At Corley, we understand how important a functioning HVAC system is for your home. This is why we offer flexible
financing options
to help you take care of your new HVAC purchase, so you can get back to taking care of what matters most to you.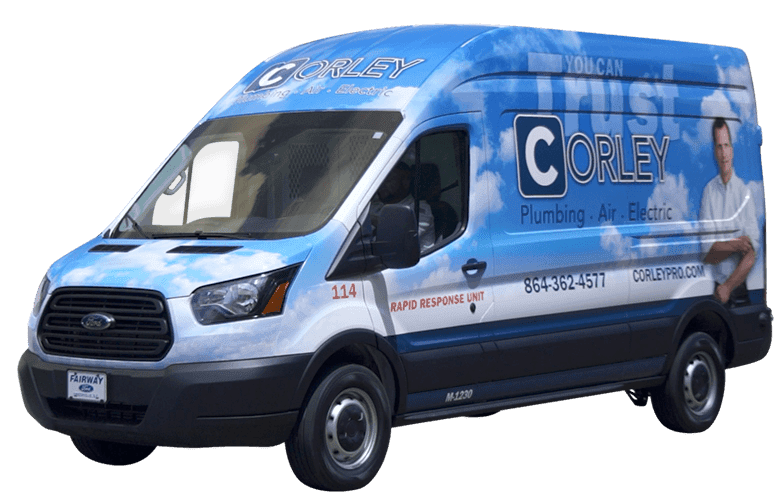 A well-maintained HVAC system can save you from having to invest in costly repairs down the road. Learn more about the
priority maintenance services
offered by Corley Plumbing Air Electric.