Emergency Air Conditioning Repair in Greenville and Upstate South Carolina
Nothing is more stressful than a broken air conditioner during a South Carolina summer. The only thing more stressful than an AC breaking down is having it breakdown on the weekend, over a holiday, or at 9 o'clock at night.
When that happens, you can count on Corley Pros for speedy emergency AC repair services in Greenville and the surrounding area. Our team of certified HVAC technicians are equipped to repair all major brands and types of air conditioners–no matter what time it is.
Signs You Need to Call for Emergency AC Repair
Your air conditioner is meant to keep your home cool and comfortable. If your unit isn't turning on, that's a major reason to call our Greenville emergency AC repair team.
Beyond that, there are other warning signs to look for that indicate there might be a problem:
Constantly Needing to Adjust the Thermostat: If your house never seems to cool down with the AC on or you find yourself frequently adjusting the temperature, there might be a problem.
Odd Noises: Many people ignore this early warning sign of a problem. Air conditioners will make noise during operation, but constant clanking, gurgling, or other strange noises are a cause for concern.
Warm Air Blowing from Vents: If the air coming from the vents is warm, it's a major sign that something is not functioning properly and needs to be addressed sooner rather than later.
Unexplained Increase in Energy Bill: If your AC unit isn't working effectively, you might notice a drastic increase in the utility bill. This is a sign that you have an overworking system that needs to be repaired.
If you notice one or more of these warning signs, contact Corley Pro for our emergency air conditioner repair services in Greenville and Upstate South Carolina.
Prevent Emergency Repairs with Routine AC Maintenance
While it's impossible to promise that you'll never have to deal with an unexpected cooling system breakdown, preventive air conditioning maintenance will significantly minimize your chances!
Avoid having to call our Greenville emergency air conditioner repair team by having your unit professional inspected, cleaned, and calibrated as needed annually.
In addition to catching problems before they become emergencies, regular maintenance offers the following benefits:
Upholds AC maintenance warranty
Improves energy efficiency
Preserves the operational life span
With Corley Pro, the moment we get an emergency service call, we're here to help. For speedy and professional AC repair services in Greenville, give us a call at (864) 659-2996.
Bundle HVAC System Purchase with Free UV LIght ($595 Value)
*Exclusions may apply. Cannot be combined with other offers. Call for details.

Founded in 1986, Corley has been proven reliable, efficient, and skilled when it comes to solving all your plumbing, HVAC and electrical needs.

Corley helps you solve your problems today by providing friendly, knowledgeable technicians, state-of-the-art equipment, and old-fashioned, honest service.

We provide up-front pricing, so you'll never have to guess how much your repair is going to cost. We will go over your options so you can make the best choice for your home.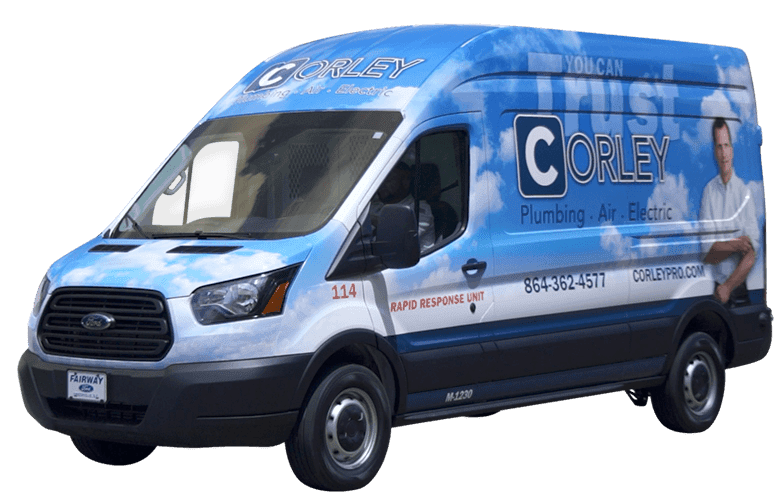 Financing Options Available
At Corley, we understand how important a functioning HVAC system is for your home. This is why we offer flexible
financing options
to help you take care of your new HVAC purchase, so you can get back to taking care of what matters most to you.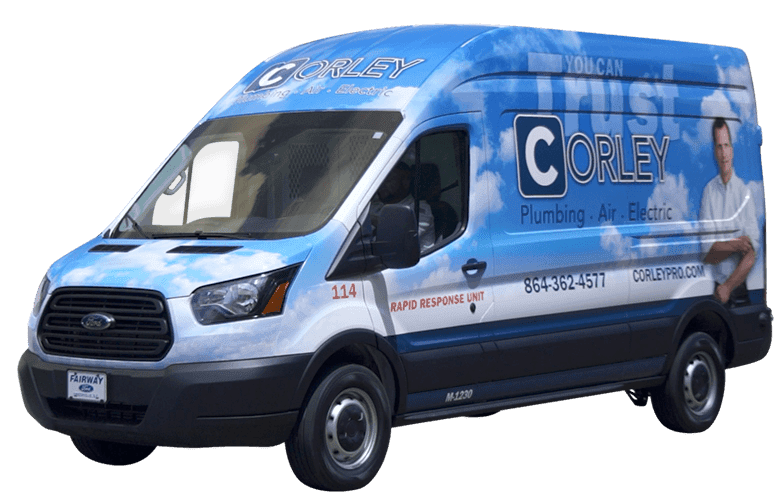 A well-maintained HVAC system can save you from having to invest in costly repairs down the road. Learn more about the
priority maintenance services
offered by Corley Plumbing Air Electric.