When you need help with your plumbing in Taylors, SC, whether you need a repair, an installation, or a replacement, the experts at Corley would be happy to help you out. We promise to get to you fast, to treat your home the same way we would treat our own, and to get everything running just the way you need it to. We'll make sure you're completely satisfied with the work we've done before we go, too.
Plumbing Repair
We offer a comprehensive array of plumbing services, so there's no job too big or too small for our experienced plumbing staff. We'll unclog your toilets, clean your drains, and replace your sinks and faucets. The big stuff isn't a problem, either. We can find and fix your leaky pipes, fix slab leaks, or repair your sewer.
Our plumbing repair process is straightforward. We'll arrive at your house on time and talk to you about what you've been experiencing with your plumbing. Then, we'll take a look for ourselves. We'll use advanced technological methods to figure out what is going on and to design a repair strategy that will get everything back to normal again. We'll talk you through the repair. If you agree to have it done, we'll get started ASAP so you can use your plumbing again soon.
Plumbing Installations
Are you making upgrades to your home that involve your plumbing? Our plumbers will make sure you get the best possible products and that they are all installed according to manufacturer specification and housing code. That way, you won't have to worry about your plumbing for a long time! We can even work with other contractors to make sure your plumbing is in place when they arrive to work.
Call Corley today with all of your plumbing needs. Stop stressing and take steps toward getting your plumbing issues fixed once and for all. Whenever you need a plumber in Taylors, SC, we'll be there fast and get the work done quickly. We would love to get to know you and help you live better in Taylors, so make your appointment today!
Get ready for the holidays! $50 0ff Corley Garbage Disposal Replacement with 6 Year Warranty
*Exclusions may apply. Cannot be combined with other offers. Call for details.

Founded in 1986, Corley has been proven reliable, efficient, and skilled when it comes to solving all your plumbing, HVAC and electrical needs.

Corley helps you solve your problems today by providing friendly, knowledgeable technicians, state-of-the-art equipment, and old-fashioned, honest service.

We provide up-front pricing, so you'll never have to guess how much your repair is going to cost. We will go over your options so you can make the best choice for your home.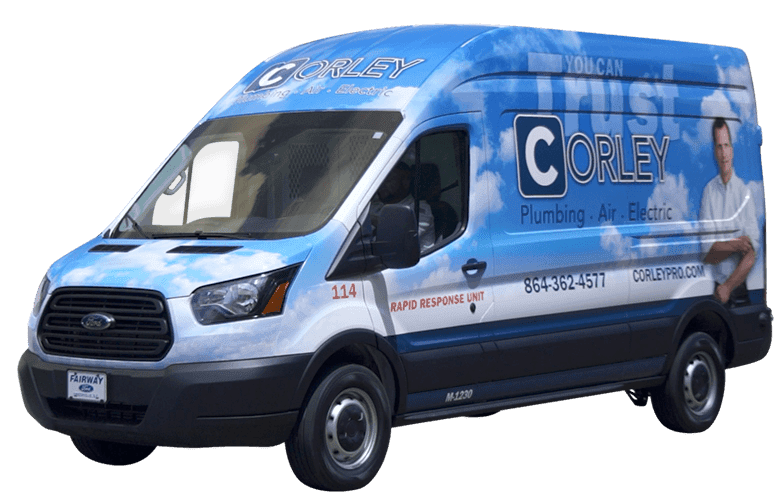 Financing Options Available
At Corley, we understand how important a functioning HVAC system is for your home. This is why we offer flexible
financing options
to help you take care of your new HVAC purchase, so you can get back to taking care of what matters most to you.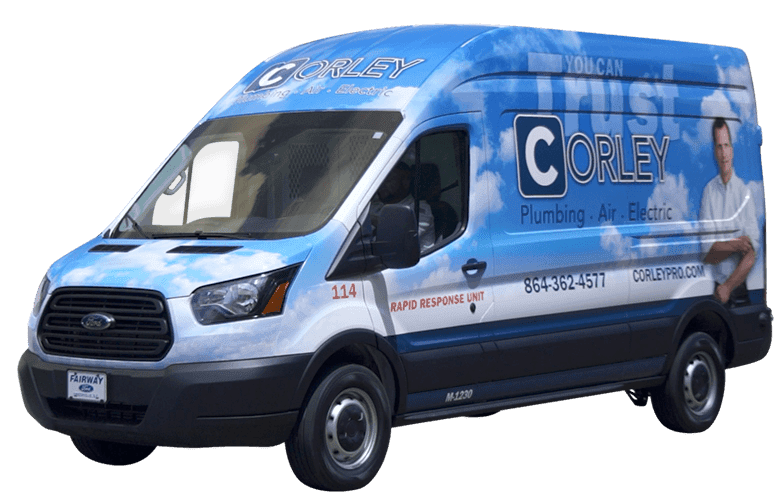 A well-maintained HVAC system can save you from having to invest in costly repairs down the road. Learn more about the
priority maintenance services
offered by Corley Plumbing Air Electric.